Principal's Message
Tena koutou katoa,
"James 1:2-4 Consider it pure joy, my brothers and sisters, whenever you face trials of many kinds, 3 because you know that the testing of your faith produces perseverance. 4 Let perseverance finish its work so that you may be mature and complete, not lacking anything."
I implore you to find the Blessings in disguise and that the Word of God would be our North Star or Hammer during these times.
Thank you for your part in keeping our school community safe , supporting our teachers onsite and holding the line with distance learning. It has been most encouraging to see our Rise UP Community stay calm and keep going for the well-being of our nation.
Phase 3 presents a whole new landscape as we move to more personal responsibility in keeping our whanau safe during this outbreak.
"You may have seen Dr Jin Russell in the media noting research from New South Wales about their recent Omicron outbreak showing that onward transmission within the school setting is very low. For every child who is infected and attends school only 3.7% of their close contacts at school subsequently tested positive. We have seen that in New Zealand too – public health teams on the ground have seen that even though cases pop up in schools, there has been very little onward spread through the school because of the protective measures we have in place.
This is why we remain open at Red. It's great for a child's wellbeing and learning to be at school with their friends and school staff, and we have very good systems in place to keep everyone as safe as possible.
Your job remains the same, too: please continue to keep a really close watch of your whānau for anyone with symptoms. If unwell, please stay at home and get advice about getting a COVID-19 test.
With Phase 3 of the Omicron response, the key change is that it is only confirmed cases and their household contacts who need to self-isolate. Everyone else, including those who may have had close contact with the case but aren't in the household, must continue to monitor really closely for any symptoms of COVID-19.
Rapid antigen tests (RATs) are now being used to diagnose COVID-19 as well as PCR tests. This means that you will get an almost immediate test result back if a RAT is used.
If anyone in your family is confirmed as having COVID-19, you will be asked to notify your close contacts yourself. Please get in touch with us as soon as you can if your child has tested positive for COVID-19.
Transmission of COVID-19 is still most likely to happen in your home – so please keep doing all those good things to keep your whānau safe. Wash your hands, get lots of fresh air, cover any coughs and sneezes, clean surfaces regularly, and seek advice if anyone is not feeling well. And please wear a mask when you are out and about. There is information online to help your family prepare to isolate if you need to.
The most important advice we can give to keep your whānau safe is to act as if you have COVID-19. More than a third of people who have COVID-19 will not have any symptoms if they have had three doses of the vaccine. Please think about who you visit and what health measures you can put in place to keep everyone as safe as possible.
Getting three doses of the vaccine will really help you to do that. Research has shown that compared with being unvaccinated, three doses of the vaccine will mean you are 67% less likely to be infected with Omicron and 97% less likely to get Delta. If you can't get COVID you can't pass it on.
Finally, we know how hard the impacts on COVID-19 have been for many families in New Zealand. If you know of a family in your community who is struggling, please encourage them to reach out for support for example to access food, medicine, or access financial support: Help is available – COVID-19 Health Hub.
Philippians 4:6—Don't worry about anything; instead, pray about everything. Tell God what you need, and thank him for all he has done. If you have any concerns about sending your child to school, please do get in touch. We are here to help.
Aku mihi, Sita Selupe MNZM
Introducing our 2022 Student Council:Eden Pasene, Cairo Tapu, Gideon Fe'ao, Matutua Talagi, Aaliyah Martin.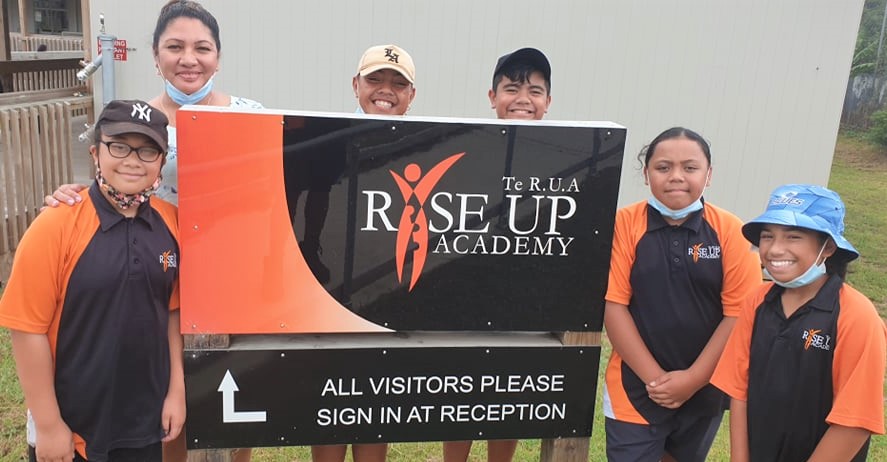 Recent Events
It has been an interesting start to the year for our Rise UP Family. However, we celebrate the fun learning experiences, the friends being made, our new staff and especially our new students and their whanau.
Introducing the RUA Classrooms for 2022
It has been an interesting start to the year for our Rise UP Family. However, we celebrate the fun learning experiences, the friends being made, our new staff and especially our new students and their whanau.
Room 5
Talofa Lava whanau,
I am the New Entrant and Year 1 teacher in room 5. My name is Ernestine Muller and over the past month we have been working together on creating our Class Treaty. Our new students have been warmly welcomed and we are establishing our classroom routines and expectations. Our school's Vision has been introduced to our new students and we are working on understanding the meaning of our school's Values: RISE. R= Resilience – We are learning that being brave through tough times helps us to grow resilience. Stay strong Rise UP Aiga!
Blessings, Ernestine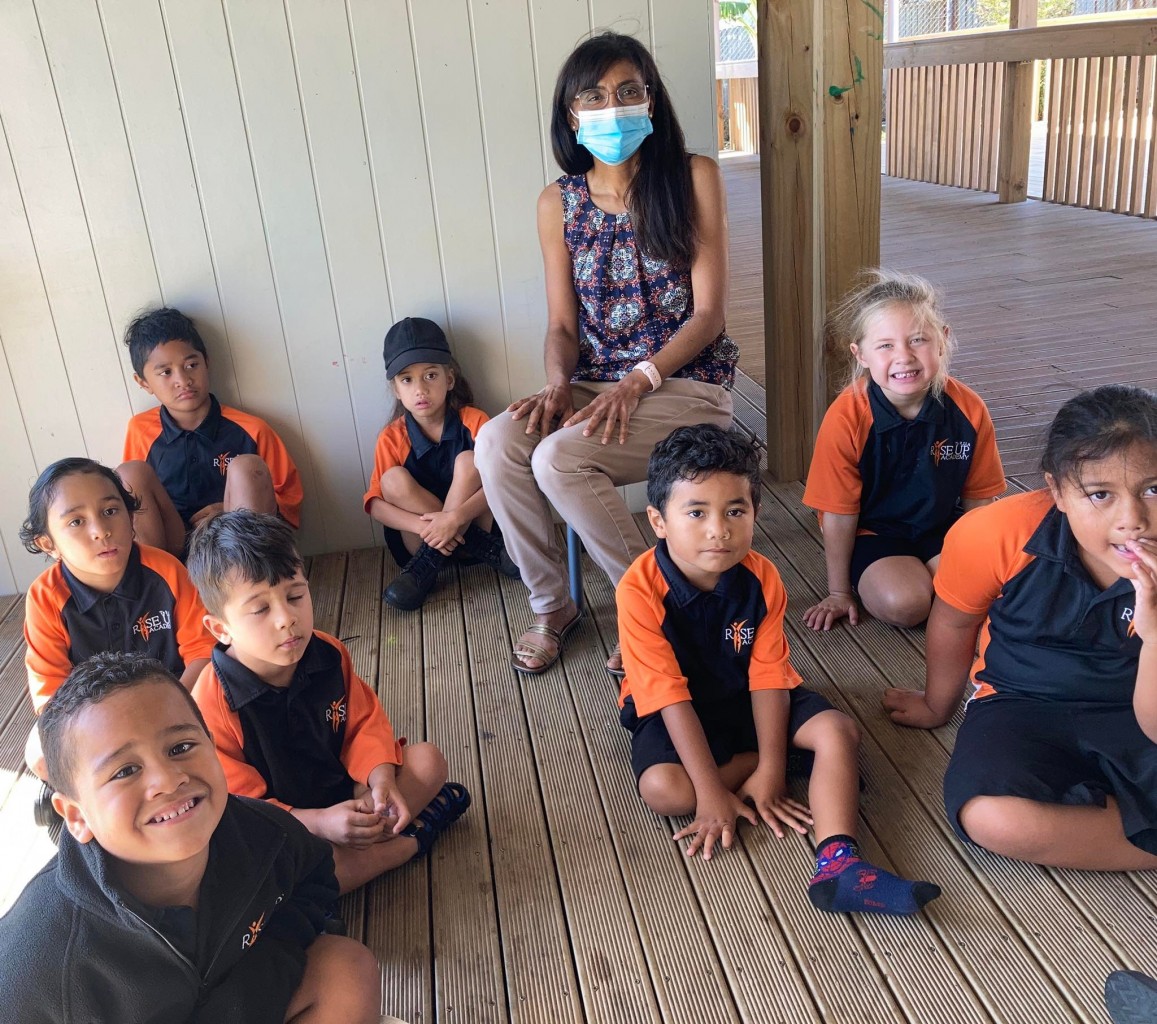 Room 4
Talofa,
My name is Rona Faga and I have pleasure of teaching our energetic year 2/3 students in room four with Mrs Desi Govender on Tuesday. For the first weeks of the term, we have focused on understanding and applying our Rise Up vision and values. We have looked at the importance of the Te Tiriti o Waitangi and have formed our own Te Tiriti O Ruma Wha. We also welcome two new students to Room four, Julianna Lafaialii and Lewis Pola. I look forward to see our children grow their sharp minds, strong bodies and good hearts.
Blessings, Mrs Rona Faga and Mrs Desi Govender
Room 3
Hi my name is Miss Kristin Falconer, and I am the new year 4/5 classroom teacher in room 3. I recently relocated to Auckland from Christchurch, and have loved my time teaching at RUA so far. I am extremely grateful to have been given the opportunity to begin my teaching career at such a special school, with so much character.
Room 3 have made a great start to the year, and all have settled into their new classroom well, especially our new students. We welcomed 6 new students into our classroom this term. One of our major focuses this month has been learning about the Treaty of Waitangi. We learnt about the significant events in the Treaty, and compared the two translations. This encouraged students to relate the Treaty to our lives today.
Our overall theme for Devotion this term is 'I know who I am'. This theme links nicely to both our Inquiry learning, and students introducing themselves over the first few weeks of school. It has been great to witness such a positive, caring, motivated, and supportive culture in Room 3 so far. I am looking forward to what the rest of the term has in store for us, and look forward to meeting you all.
Mālō 'aupito,
Miss Falconer
Room 2
Talofa lava my name is Mrs Joyce Salu and I am in Room 2 teaching Year 5 and 6.
This term our theme for devotion is I KNOW WHO I AM. Our self portrait art lesson was inspired by one of our key scriptures: PSALM 139:14 I praise you because I am fearfully and wonderfully made; your works are wonderful, I know that full well.
Blessings, Miss Salu
Room 1
Fakaalofa lahi atu kia mutolu oti – Welcome back to the start of 2022 in Room 1. Firstly I would like to thank our Heavenly Father for keeping you all safe over the Christmas and New Year break.
To our new students and whanau who have joined us for the first time this year, welcome and thank you for picking up the paddle and journeying with us in our Rise UP waka. Welcome to; Hinepounamu Rangi Yr 8, Thomas Papali'i Tiria Yr 7, Esetera Winter Yr 8, Isabella Winter Yr 7 and Matutua Talagi Yr 7 and their whanau. We hope your start to Rise UP has been great.
These past 4 weeks the students have been learning about our School Vision, Values, The Treaty of Waitangi, and the importance of our Pasifika Values (daily devotion) "I Know Who I am". Lastly, I look forward to seeing you all for Parent Partnership Meeting in week 5 Friday 4th March via Zoom.
Blessings Ms Sifaheone.
WELCOME TO OUR NEW LEARNING ASSISTANTS FOR 2022
Introducing our two Learning Assistants Melody Yeng Tung (Whaea Mel) who has 2 sons in Y8 & Y6 at Rise Up. We also have Penina Ulugia (Whaea Penina) who has a son in Y7 & 2 daughters in Y5 & Y1. They will be working alongside our classroom teachers and sharing their wonderful skills and experience with our precious students.
THANK YOU KRISTIN SCHOOL
For the past few years Kristin School in Albany has made stationery donations to our school and without fail they have made another kind donation which also included 2 new chromebooks. Thank you Kristin school for your generous donation.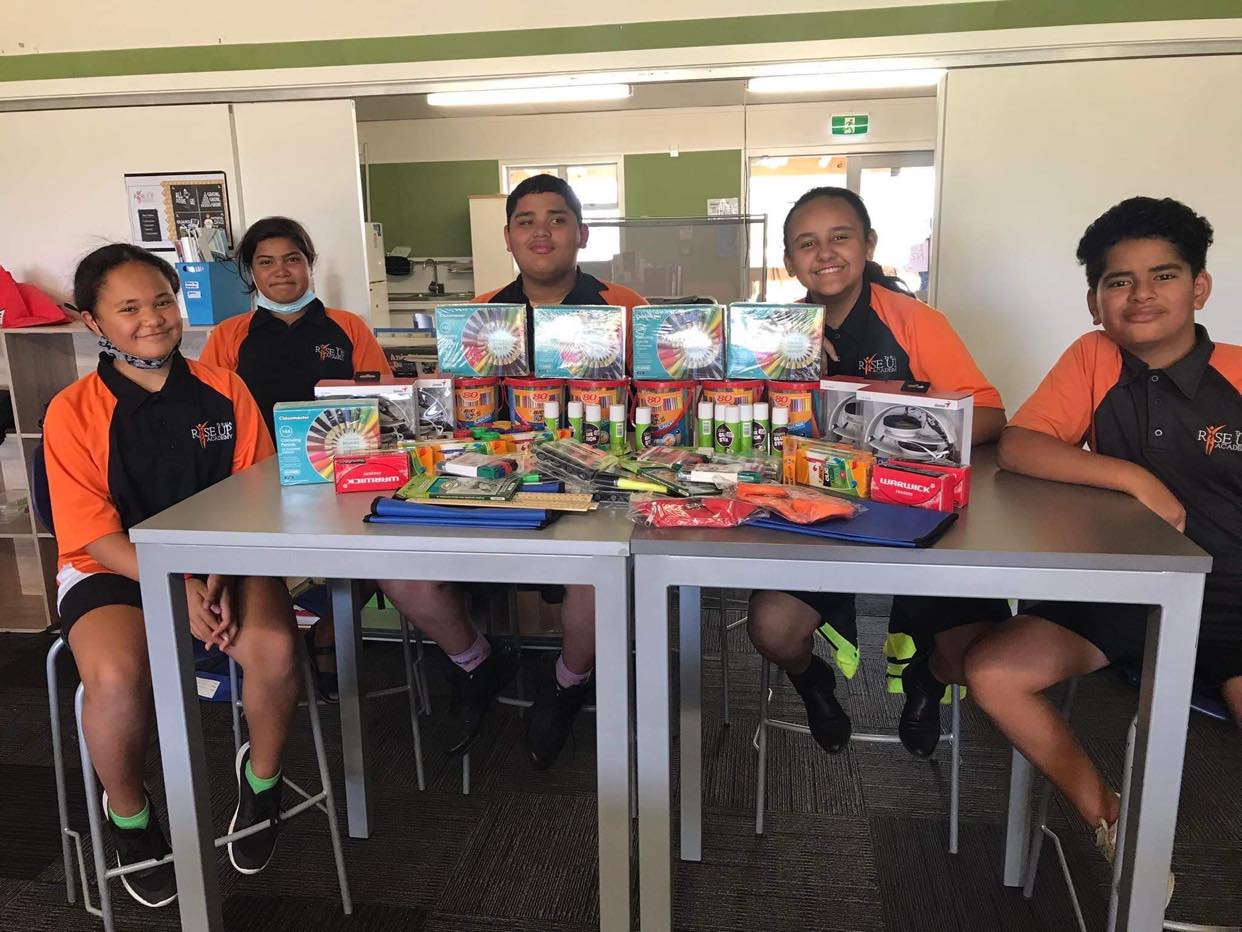 Whanau Notices
HEARTS AND MINDS
12 Whanau are participating in the Hearts & Minds programme this term. Thank you to all our whanau who have been committed and attending the programme so far. Hearts & Minds workshop is online via zoom. Parents if you would like a refresher please feel free to join us in the workshop.
PATH
Our PATH timetable schedule has been emailed to whanau. Please choose a time that is suitable for you to complete the PATH plan. Before you attend can you discuss your values, learning and whanau goals with your whanau. All PATH plan sessions will be online via zoom. Thank you to the parents who have already confirmed a time for PATH.
AFTER SCHOOL PROGRAMME
After school care has been CANCELLED for Week 5 : 28 February – 4th March
ONLINE PARENT PARTNERSHIP MEETING /TEACHERS ONLY DAY
Next Friday 4th March is our Parent Partnership Meeting which is also a NO SCHOOL DAY. This is where the classroom teacher and student will discuss with you their goals for the year via zoom. Thank you to those who have already booked their time slot. If you haven't already please email [email protected]
HOME LEARNING PACKS
If your child is at home isolating and runs out of school work please email your child's classroom teacher directly. Please see the email list below.
Room 1: Ms Kui Sifaheone [email protected]
Room 2: Mrs Joyce Salu [email protected]
Room 3: Miss Kristin Falconer [email protected]
Room 4: Mrs Rona Faga [email protected]
Room 5: Mrs Ernestine Muller [email protected]
CORRECT SCHOOL UNIFORM
It is important that our students take pride in their appearance. Please ensure your child wears the correct school uniform each day to school. Hats are compulsory in Terms 1 and 4. Hats with cords are ok but not on the junior playground. If your child does not bring a hat they will be able to play on the deck in the shaded areas but not on the field.
WATER BOTTLES ARE A MUST
Your child must bring a labelled water bottle to school. We have taps available to REFILL bottles but not to drink from to avoid any spread of COVID. We thank you for your support in helping to prevent the spread of COVID in our school community.
SCHOOL STATIONERY
It is important that all our children have their stationery now. This will help them work efficiently. We recommend your child brings a bible to school for devotions or to refer to while they're at home if they want to recap on devotions at home. These bibles can be purchased from Manna Christian Store in Manukau. Below are pics of Bibles available or you can ask someone at the shop for assistance. If your child has a bible at home they can bring this to school.
CARPARK RULES & SAFETY ON THE ROAD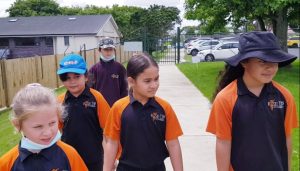 Our students are our treasures and their safety is our utmost importance.
The Carpark – is for RUA & SDBI Staff only and for those with a disability card displayed. If a grandparent or someone else is picking up your child please make them aware of the carpark rules.
The Church & Rise UP Driveway – please do not park here as we have had a car reverse into another families car and also near misses with our students. There is ample carparks on the road and you must pick your child up from the school gate. There will be cones put out to remind you to keep these spaces clear.
COVID-19

WHAT TYPE OF CONTACT ARE YOU?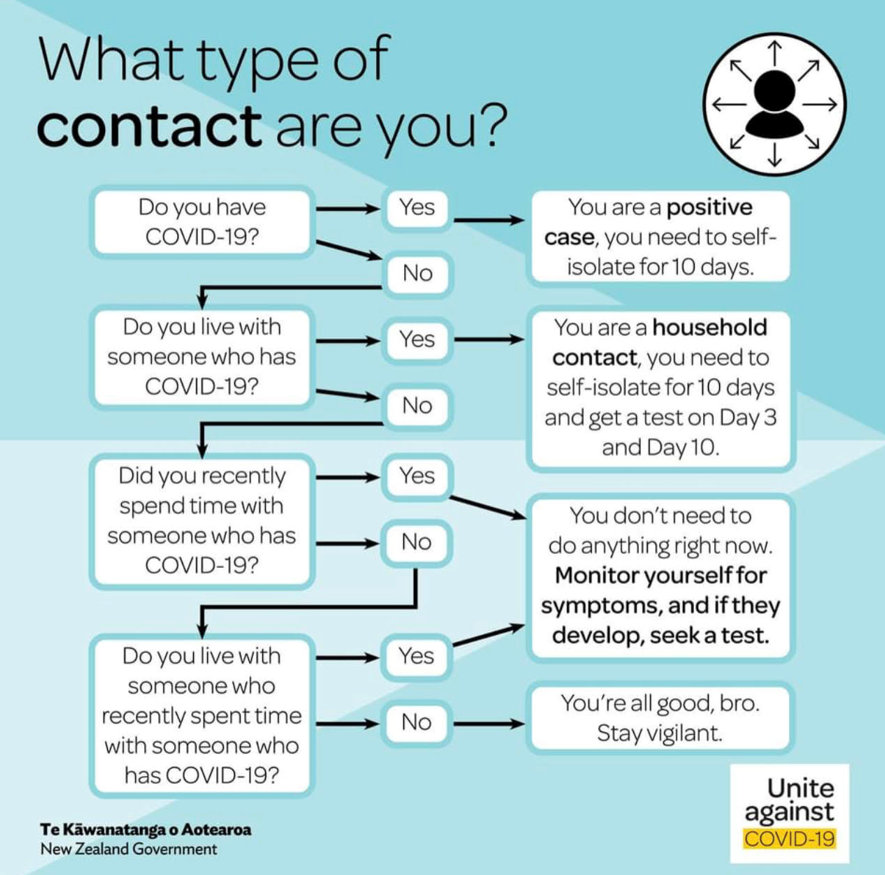 Devotions
Whanau devotions:
Devotion topic: I Know Who I Am
Scripture for the term:
Psalm 139:13-16
13. For you created my inmost being; you knit me together in my mother's womb.
14. I praise you because I am fearfully and wonderfully made; your works are wonderful; I know that full well.
15. My frame was not hidden from you when I was made in the secret place, when I was woven together in the depths of the earth.
16. Your eyes saw my unformed body; all the days ordained for me were written in your book before one of them came to be.
Scripture for the week:
Psalm 139: 13-16
I praise you because I am fearfully and wonderfully made; your works are wonderful; I know that full well.
Learning Intention: We are learning to understand that God loves me and created me.Success criteria:
I can pray to God and thank Him for creating me.
I can believe that God loves me no matter what
Prayer requests:
– Enrolments
– Annual Plan goals for 2022
– Well-being for all staff & whanau
– BLC FUNDING
– Gods healing be upon our whanau affected by the covid, families who are isolating
– For God's protection to be upon all our whanau, staff and board.
Thank you Lord for answered prayer

Print or Save this Post