Principal's Message
Talofa lava,
2 Peter 1:5
For this very reason, make every effort to add to your faith, goodness; and to goodness, knowledge;'
Praise the Lord for ORANGE! Term 2 sees our school kick off with whole school devotions and assemblies where we can sing praise and worship songs together, celebrate our students and teachers learning and get back some normality. The After school programme has also started with just SUPA this term as we slowly warm up all the Rise UP cylinders this year. We are all getting used to school routines and with Winter upon us we're encouraging our staff and students to keep ourselves healthy and strong and to stay home and rest if you're unwell. Thank you for all your support in ensuring our students are rugged up and ready for learning- we have lots of learning to catch up on.
This term we farewell Miss Falconer and Mrs Salu on the 3rd June. We pray they will be blessed as they leave Rise UP and we will miss them.
Our Hearts & Minds programme starts again on the 18th May for our new whanau and any whanau who want to do a refresher course are welcome to join. It has proven helpful to support our students and whanau well-being during these ever-changing times. We have Rapi Matamu joining the BLC team and facilitating in The Hearts & Minds sessions-Welcome aboard Rapi Matamu!
Our new students and whanau have made a good transition to Rise UP and demonstrating that they understand the RUA way and our values.
I look forward to a wonderful term of learning and well-being.
God bless you all,
Sita Selupe MNZM
Principal
Recent Events
Term 2: In the Classroom
Room 5
We warmly welcomed our 3 new students into Room 5. Charlee Winter- Hunter, Ezekiel Ulufonua and Lincoln Henry. They are settling well into our class routines. We are learning to take turns to talk to God during our prayer circle time.
Every morning we wake up our brains for learning with our Moves4Minds movements. We will be practicing our big ball skills this term. Room 5 students love soccer games during PE and Fitness.
In Inquiry we are learning that land is important. We live on the land and we can grow our food on the land. He iwi tahi taatou!
Have a blessed week, Mrs Ernestine Muller
Room 4
Room Four learners have settled well into Term Two. Our first week started with honoring our Aotearoa and Australian soldiers who passed in the 1915 Anzac War in Gallipoli, Turkey.
They watched videos and read books including our Big Book for the week-"Dawn Parade".
This new knowledge was used to write ANZAC acrostic poems. This was then followed up with an art activity to make ANZAC poppy hand and finger prints.
Below we have a few students who wanted to share their work.
Skye Suamasi, Brianna Herringer-Tomuli, Malaki Waites, Hannah Muelu and Graceson Faga.
Faáfetai tele lava, Mrs Rona Faga
Room 3
Talofa parents and whānau,
Room 3 have made a fantastic start to Term 2!
We began the term by introducing our new Devotion theme 'I am a child of God', and our memory verse 2 Peter 1: 5-8. Students discussed ways that we can show goodness, and we have incorporated this throughout our learning.
Our second theme in Room 3 was Anzac Day. We completed some research in Writing about when, why, and how we commemorate Anzac Day. Our class was very engaged in this research, and a few students really impressed me with their prior knowledge of Anzac Day. We continued this learning throughout our Reading programme for the week as well.
Following this, we wrote our beautiful Simile poems for Mother's Day. I hope you all had a lovely weekend celebrating Mother's Day with your families.
We also made a start on our Statistics Unit in Maths, and Room 3 were thrilled to go out onto the field and collect some real data, to determine the fastest runner in our class.
Finally, our class was delighted to attend our after school programme again.
It has been a pleasure to witness Room 3's positive, caring, motivated, and supportive culture. I am looking forward to the rest of Term 2.
Mālо̄ 'aupito,
Miss Falconer
Room 2
Noa'ia Rise Up Whanau. Term 2 has started off well with all of our learners back at school hopeful that things will return back to some normality. ANZAC day was in the school holidays however, during week one we were able to learn about the history and importance of ANZAC day. The students read a lot of texts about ANZAC day and learnt how to summarize as well as skim and scan to locate important information. These reading skills helped them to create 3D Poppies which included information and things they learnt about ANZAC.
Sunday 8th May was an important day for all of our beautiful mothers. Our students did some wonderful writing about why their mother's are important to them and they made these puzzles to gift to their mother's. Each puzzle had facts about their mothers and special messages. We praise the Lord for all of our mothers!
We are looking forward to what this new term brings. God bless, Mrs Joyce Salu.
Room 1
Fakaalofa atu
Welcome back to Term 2. In Room 1 the students really enjoyed their 2 week break they're beginning to warm up their engines to get plenty of sleep, drinking lots of water and eat well. The week the students have been writing about their adventurous holiday using rich vocabulary and figurative language to excite our readers. Week 2 the students were tested to see if they could follow some steps and instructions when creating an origami bird. Check out some of our photos and other origami creations.
Whanau Notices
HEARTS & MINDS:
We are starting up our Hearts & Minds next week Wednesday 18th May 6:15pm-8.30pm. If you know of families or friends that would like to enrol their children at Rise UP Academy please inform them that we have our Hearts & Minds programme starting next week. Part of our declaration of commitment is that parents will participate in the Hearts & Minds programme before enrolling their child at Rise UP Academy.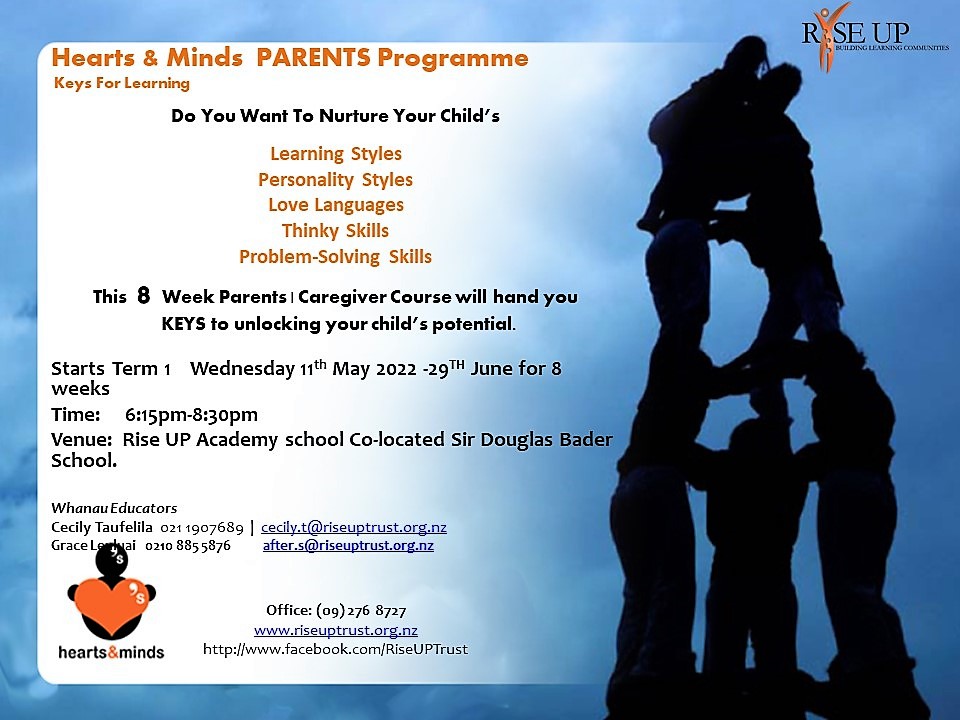 TE RUA AWHI WHANAU:
Thank you to all our whanau who attended our Meet and Greet event last Wednesday. The purpose of this group is to create a support group for our parents who have children who are neuro diverse e.g. Autism, Dyslexia, High Health Needs etc. We will have monthly meetings to discuss and share strategies, how to access support services, choosing the right high school for my year 8 child and many other topics. A special thank you to Rowena Taufa for facilitating the parent discussion.
PATH:
Our PATH timetable schedule has been emailed to whanau. Please choose a time that is suitable for you to complete the PATH plan. Before you attend can you discuss your values, learning and whanau goals with your whanau. All PATH plan sessions will be online via zoom. Thank you to the parents who have already confirmed a time for PATH.
AFTERSCHOOL PROGRAMME:
We had a great start to our programme this week!
We only have ONE programme this term which is SUPA on Mondays.
The programme runs from 3.15pm – 4.30pm. Students from Rooms 1, 2 & 3 will have a choice of ONE module (drama, dance or guitar).
If you have any questions please direct your questions to our SUPA co-ordinator for Rise Up – Mrs Laura 09 2768727 or email [email protected] Ms Grace is also available onsite for SUPA Afterschool for the rest of Term 2.
PROJECT WY:
Thank you to the families who have joined this initiative this year! We are excited to support you through your STRONG BODIES JOURNEY. Well done for those who made the first 7am Saturday training at Mission Bay, the Thursday at Otahuhu Intermediate at 6am. Keep up the great work!
Congratulations and all the best to our representatives this year:
Whaea Melody & Neil
Mrs Laura & Gideon
Mary & Izrael
Se'e & Eden
Coralie & Thomas
Melissa & Pedro
Penina & Zorama
Nikki & Harjas
Joshua & Jacob
Lorenzo & Josiah
IMPORTANT DATES FOR RISE UP ACADEMY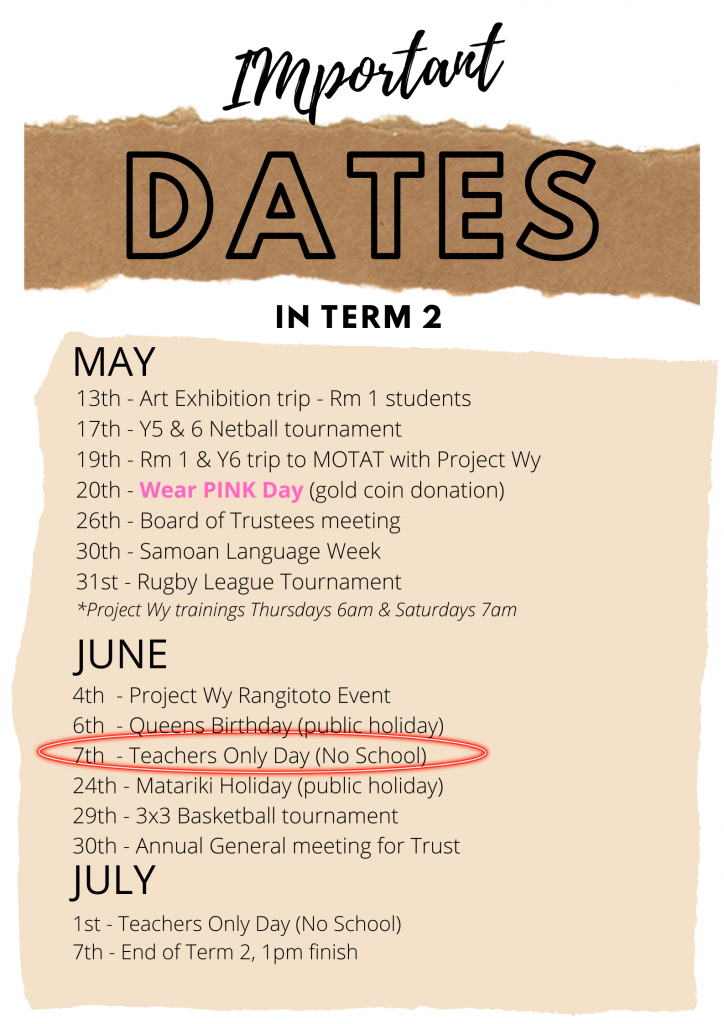 LOOKING AT HIGH SCHOOLS?
We currently have 2 High schools who have sent through some information for our whanau to look over; De La Salle College for boys and Marist College for girls.
WEAR PINK DAY – ZERO TOLERANCE FOR BULLYING – Gold Coin Donation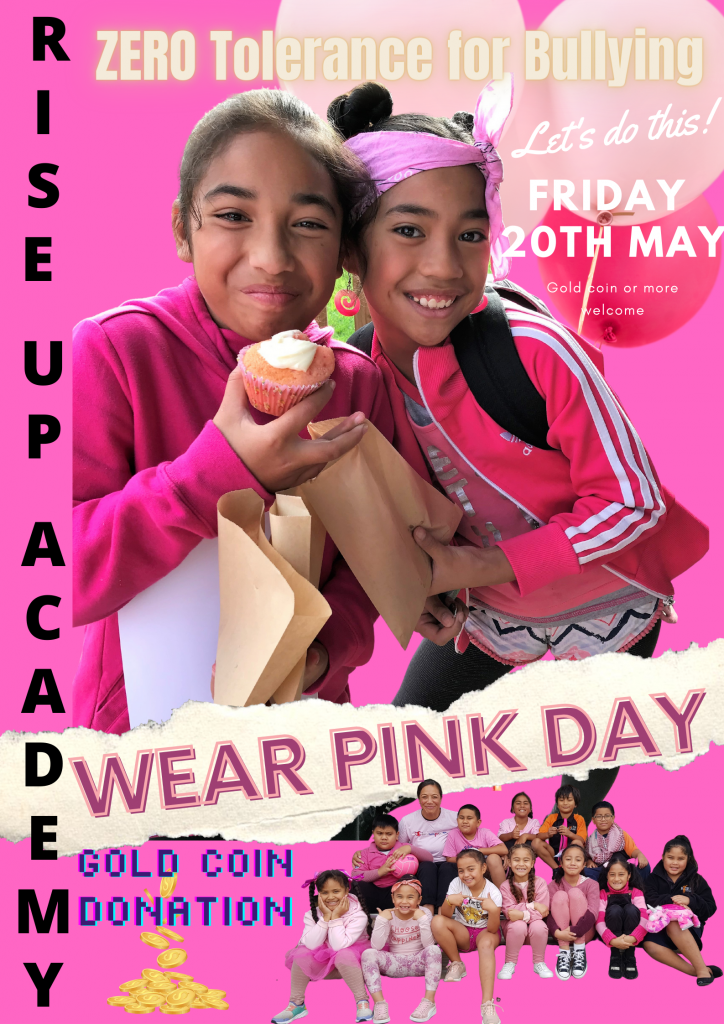 ROAD SAFETY & CARPARK RULES
At Rise UP we consider your child's safety our first priority therefore we ask that you adhere to the rules we alongside Sir Douglas Bader Intermediate have put in place. We have had a few close calls which is too many for our liking. We would like to ask that if you see any of our Rise UP parents/ caregivers parking where they shouldn't be please kindly ask them to move along. We thank you for your cooperation.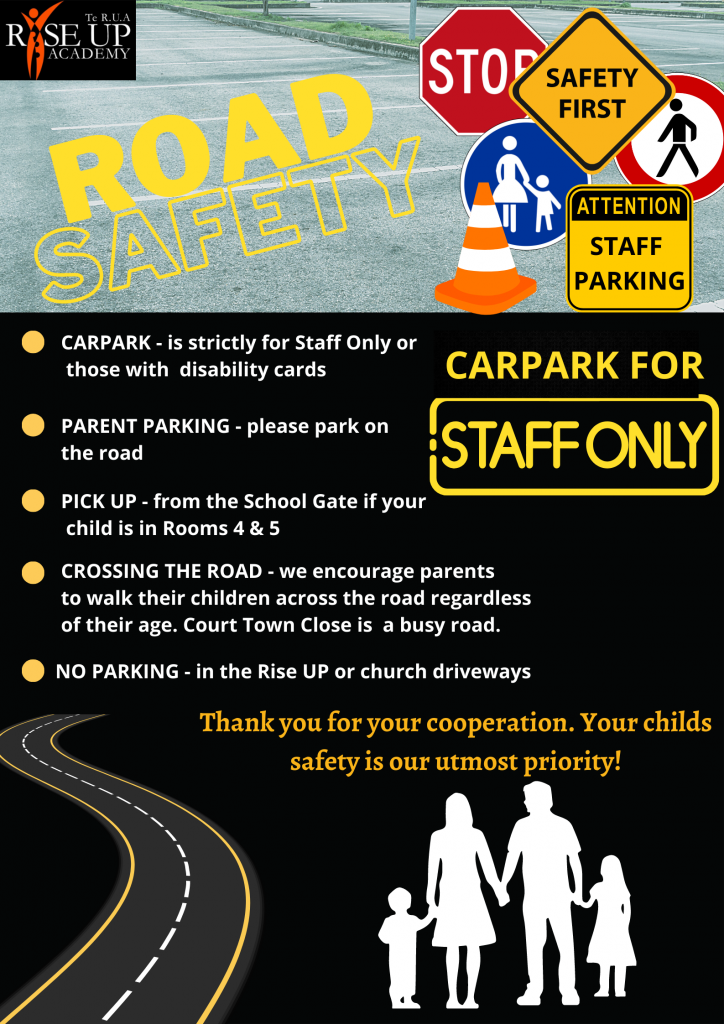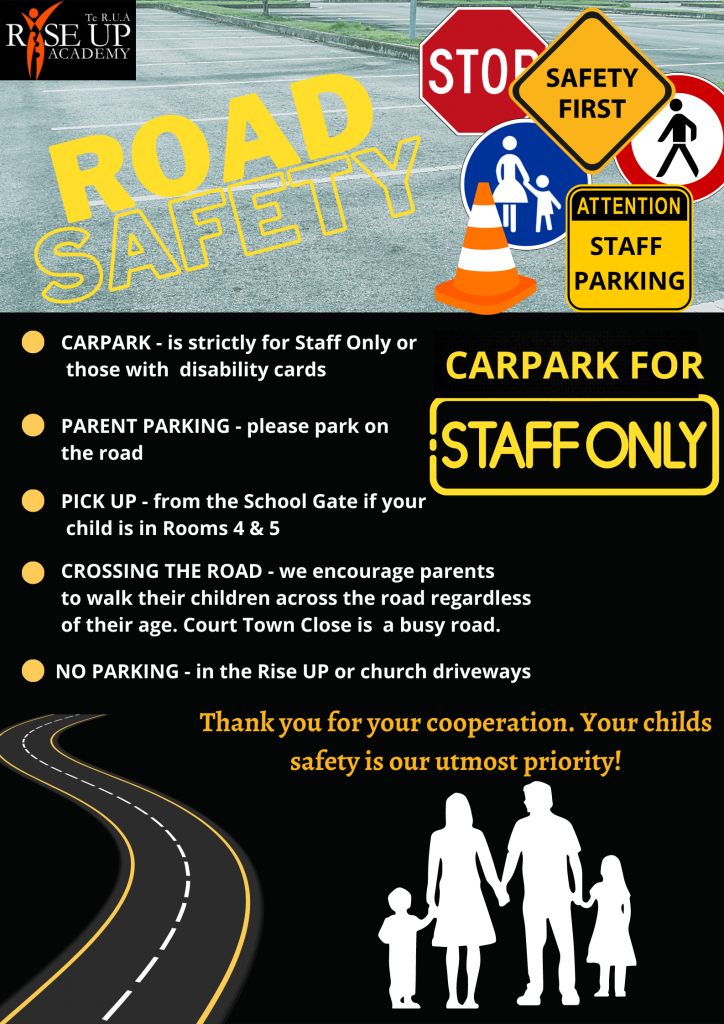 CORRECT SCHOOL UNIFORM
It is important that our students take pride in their appearance. Please ensure your child wears the correct school uniform each day to school.
As you can probably feel the mornings are becoming a bit cooler and more crisp so we encourage you if your child doesn't already have one please purchase them a school jersey. Size 6-16 $48.00 for Adult S-XL is $52.00 (no hoodies or printed jerseys to be worn at school) Your child can wear the summer uniform: polo and black shorts. If you wish to make an order please pay into the school account and email us proof of payment.
Rise UP Academy 12 3021 0016910 00 Ref: Childs name Code: Uniform Pref: polo or jersey e.g. Ref: SaaneH Code: Uniform Pref: sz14polo 
In winter (terms 2 & 3) they can also wear: long PLAIN BLACK tracks/pants (no prints on them) these can be brought from the Warehouse or Kmart (prices vary from $10-$20) Hats are not compulsory in terms 2 & 3 but we do encourage them to wear one if the sun is out.
Please support us by encouraging your child to wear the correct school uniform.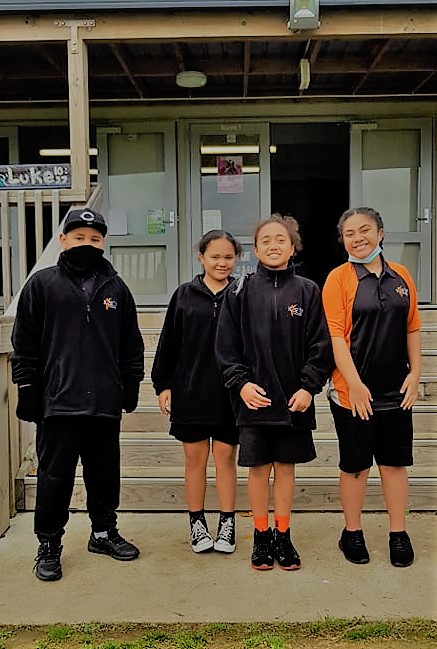 WATER BOTTLES ARE A MUST!!!
Your child must bring a labelled water bottle to school. We have taps available to REFILL bottles but not to drink from to avoid any spread of COVID. We thank you for your support in helping to prevent the spread of COVID in our school community. Should your child forget to bring a bottle the classroom teacher will be making contact with you.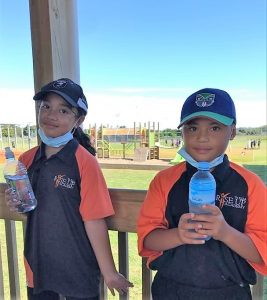 Devotions
Whanau devotions:
Devotion topic: I am a child of God: Goodness
Scripture for the term:
Ephesians 2:10
For we are his workmanship, created in Christ Jesus for good works, which God prepared beforehand, that we should walk in them. (ESV)
Scripture for the week:
2 Peter 1: 5-7
5 For this very reason, make every effort to add to your faith goodness; and to goodness, knowledge;6 and to knowledge, self-control; and to self-control, perseverance; and to perseverance, godliness;7 and to godliness, mutual affection; and to mutual affection, love. For if you possess these qualities in increasing measure, they will keep you from being ineffective and unproductive in your knowledge of our Lord Jesus Christ.
Learning Intention: Success criteria:
We are learning how to show goodness to others
● I can pray and ask Jesus to help me to make good choices.
● I can share with others
●I can use my manners when speaking to others
Prayer requests:
Enrolments for 2023
Well-being for all staff & whanau
BLC FUNDING
For God's protection to be upon all our whanau, staff and board.
Praise be to God for answered prayer

Print or Save this Post