Principal's Message
Kia ora koutou,
"Rejoice always, pray without ceasing, give thanks in all circumstances; for this is the will of God in Christ Jesus for you" (1 Thessalonians 5:16-18, ESV).
I hope this newsletter finds you warm, well and full of faith. I want to express my thanks for the amazing community you are.
"
1. It has been wonderful to see parents back on site, to see and experience 'live' assemblies and devotions at school. The staff and students are enjoying the normalcy of the orange light setting especially during devotions and assemblies.
2. STRONG BODIES- I wish to congratulate all our whanau who have made such a massive effort to support their children's well-being and participating in the Project Wy challenge. Showing up to the 6am start on Thursdays and Saturday 7am start is a mark of commitment.
3. SHARP MINDS & GOOD HEARTS– I want to thank and commend all the new whanau and pre-enrolled whanau for attending our HEARTS & MINDS programme this term. Setting up our children for success at school by fully engaging with us is the key to a wonderful learning journey at Rise UP. Contact us if you would like a refresher. We will reap what we sow!
4. WINTER CHILLS– We must fortify our immune systems and ensure our children are bouncing back quickly from the effects of flu and covid so thank you for ensuring everyone is eating well, sleeping well and exercising well. Thank you for keeping us updated with your children's well-being and keeping them home when unwell. https://www.healthline.com/health/food-nutrition/foods-that-boost-the-immune-system
5. Stay alert: COVID-19 will still be with us this winter
COVID-19 will still be in the community this winter so stay alert – even if you've had it before.
Remember these five important tips from Auckland Regional Public Health Service:
Keep up healthy habits:
• Washing and drying your hands well and often
• Wearing a mask – especially inside. They stop the virus spreading when someone speaks,
laughs, coughs, sings or sneezes.
• Coughing and sneezing into a tissue or your elbow; not your hands.
• Cleaning or disinfecting shared surfaces regularly
• Keeping inside spaces well ventilated (e.g. open windows) to improve airflow and reduce
the risk of transmitting the virus.
Now is also a good time to check your whānau is up to date with their immunisations against
diseases like measles, mumps, rubella and pertussis (whooping cough). With New Zealand's borders
re-opening, there is a greater risk of diseases like measles arriving here in the coming months.
Know the symptoms to look for: The symptoms of COVID-19 can include a new or worsening
cough, sneezing and runny nose, a fever, temporary loss of smell or altered sense of taste, sore
throat, shortness of breath. Less common symptoms can include: diarrhoea, headache, nausea,
vomiting, malaise (a general feeling of discomfort, illness or unease), chest pain, abdominal pain, joint
pain, confusion or irritability.
In an emergency (for example if someone is having difficulty breathing), immediately dial 111
for an ambulance. COVID-related medical care is free.
Have symptoms? Stay home, call Healthline: If you or anyone in your household has COVID
symptoms, stay at home and call Healthline: 0800 358 5453. They will tell you what to do,
including how to get a test. Healthline is free, available 24/7 and has interpreters available.
COVID-19 in your household? Stay home: Everyone living in a household with someone who
has COVID-19 needs to isolate – not just the person with the virus.
• Household contacts need to isolate for seven days and have two tests during that time: one
on Day 3 and one on Day 7. The only exception is people who have already had COVID-19, less
than 90 days ago.
• Household Contacts can leave isolation after 7 days if they remain well and have returned
negative tests.
• Please do not send your child in if they live with someone who has COVID-19, even if they
are well.
• It's a good idea to prepare in case you need to self-isolate. You can download an Isolation Plan
from the www.covid-19.govt.nz website.
For more information and advice about COVID-19:
Call:
• Healthline: 0800 358 5453 (a free, 24/7 service with interpreters available)
Or visit:
• Unite against COVID covid19.govt.nz
• Auckland Regional Public Health Service www.arphs.health.nz
• Ministry of Health www.health.govt.nz/covid-19
• Northern Region Health Coordination Centre nrhcc.health.nz
Cold weather, clothing and the requirement on schools to provide ongoing ventilation
The weather is getting colder, yet we are required to have as much ventilation as possible under
Orange Level. To enable students to stay warm and to also meet such health regulations please note
the following for the rest of this term only. This will be reviewed with any change of level:
Where teachers are unable to provide usual levels of warmth in a classroom or learning space because
of the fore mentioned ventilation, students will be able to wear these non-uniform items:
1. Parkas, puffer jackets and the like may be worn over the existing uniform
2. T-shirts, crew necks and or polos may be worn under existing uniform shirts and blouses
3. Beanies (and if you don't have a school scarf), non-regulation scarves can be worn
Caution:
1. If any learning spaces on any campus are still able to be maintained at appropriately warm
temperatures, and students inhabit these spaces in the main ie do not move period by period
to other buildings then Campus Leads will not permit the above uniform variations for those
students. Be alert for management updates.
2. In order to protect, and not lose these additional clothing items, please name them and
instruct you children to take particular care of these."
Rejoice in the Lord always and again I say Rejoice!
https://www.crosswalk.com/faith/prayer/how-to-pray-without-ceasing.html
God bless you all,
Sita Selupe MNZM
Principal
NB:
Due to staff well-being we will be finishing school on Thursdays at 1.10pm starting from the 23rd June for the remainder of the term.
Recent Events
Learning In Rooms 2,3 & 5
Room 5
Chapman Matamu had his special hair cutting ceremony and looks very smart and grown up with his new hairstyle! Congratulations Chapman!!
Room 5 students are learning to begin a sentence with a capital and leave spaces between words. We also know what a full stop is, and are learning the meaning of a full stop and a comma. In maths we are learning to solve addiction and subtraction problems.
The story: Casey the Caterpillar helps us learn, practice and remember the correct letter formation of all the letters of the alphabet.
Room 3
Talofa Lava,
The past few weeks have been very eventful in Room 3. Our Writing has been focused around Explanations, and we linked this to our Inquiry, 'Creative Natives', by researching a local body of water in NZ. I also shared my pepeha and students began writing their own personal pepeha as well.
In Maths, we've been learning all about Statistics this term, and had the chance to form our own questions and collect real data. Students have been very engaged throughout this unit, and began to think critically about using Statistics to form and answer questions.
Our Reading has been centred about Anzac Day, and then Samoan Language Week. These were both fantastic opportunities to participate in a range of different activities and workshops; especially Samoan Language Week.
We had a fantastic week with numerous rich cultural experiences, such as the Sasa dance workshop, and a closing ceremony where we had a big feast all together. Room 3 were in their element, and stepped forward into multiple leadership roles throughout the week.
I just wanted to take this final opportunity to say a big fa'afetai tele lava to everyone who has been a part of my amazing journey at Rise UP. Especially our committed and supportive community of parents/ Aiga. It has been such a special experience, which I will hold close to my heart forever. Thank you all for your support and cooperation. I hope to see you all again in the future.
Blessings,
Miss Falconer
Room 2
Talofa Rise Up Aiga,
Since the last newsletter, Room 2 have been very busy. In literacy they have been learning about procedural writing. For one of their learning experiences, each student got to make a sandwich and write a procedure about it. Another activity each student did was make a pink milkshake on Pink Shirt Day, after this process they had to write a procedure for this too! In Reading, our students have been studying the novel Holes by Louis Sachar. Here are some examples of their own comics they created using the app Pixton to retell one of their favourite parts from the novel.
This term we were able to visit Motat as part of our STEM learning. Our students enjoyed about the past and present of transport and technology. A highlight for them was riding on the tram. The rain did not stop us from learning lots and having fun!
Samoan Language Week was a huge success as all our students got to embrace the culture and learn the Gagana through dance, song and class activities. Our students were able to attend the Mangere Arts Centre for a Sasa workshop, Ula lole making (lolly necklaces) and then the week ended with a big feast of Samoan mea'ai (food).
As you know, my journey at Rise Up has come to an end. I want to say a huge fa'afetai tele lava to all of our RUA Aiga staff, parents and students for your love and support in my season here. It has been a blessing serving at Rise Up. I am going to miss everyone but especially my 19 children in Room 2. This is not a goodbye forever but a see you again soon.
Alofa tele atu, Mrs Salu.
New Seasons
As we farewell Miss Falconer and Mrs Salu we warmly welcome our lovely new teachers; Ms Ramona Debenham in Room 3 and Ms Dominica Ah Lam. These ladies have a richness of experience and we know will be a blessing to our RUA Whanau. We also have Ms Sarah Pula Olo known to our children as Ms Sarah who will be joining our Learning Assistants Team alongside Whaea Mel & Whaea Penina.
Last Wednesday we had a powhiri led by Hadassah (Y6) to welcome our new teachers and their whanau to our Rise UP Aiga. LIke we say "We enrol your child we enrol your whanau, however, in this case it's we enrol your family member as staff, we enrol your whole whanau. We look forward to rowing the RUA waka together with our new staff.
SAMOAN LANGUAGE WEEK
Talofa lava i le mamalu o aiga ma fanau,
Faafetai i le lagolagosuaina o le vaiaso o le gagana Samoa.
O le matua o lenei vaiaso e faapea "Faaauau le folauga i le va'a o tautai – Continue the voyage with competent wayfinders of the ocean"
What a week it has been! Thank you parents for dressing your child/ren up in lovely cultural wear – we had a wonderful cat walk fashion show in the beginning of assembly. We were also blessed to have Lesa Lani Alo sing his Award Winning Song – 'Alo i ou faiva' which was also a lovely tribute to Mrs Salu & Miss Falconer as we bid them farewell.
Well done to all our children who received Samoan Language week certificates – Malo le taumafai! Malo le tauivi.
WEAR PINK DAY
Rise UP ~ ZERO Tolerance for Bullying
Thank you RUA Whanau for dressing your child/ren in PINK and for your generous donation. We raised $244.70!!!
Whanau Notices
Thank you Mr Joe Seniloli
Joe Seniloli has been part of our parenting programme Hearts & Minds since 2017. He left Rise UP Academy fulltime in 2018 however he continued to facilitate the Hearts & Minds programme in the evenings. He has been a tremendous blessing to our whanau. He is always transparent about his parenting journey and has always shared his parenting experiences with lots of humour. It has been a great privilege to serve alongside Joe and learn so much from him. Thank you Joe for your years of service at Rise UP Academy. Our fathers have loved having a male facilitator who keeps it real!!May God continue to bless you and your whanau in this next exciting chapter of your lives.
HEARTS & MINDS
We have started our Hearts & Minds programme with our five whanau. We look forward to our journey ahead with our new whanau. Also welcome on board to our new facilitator Rapi Matamu.
"We are setting up our kids to win and setting up ourselves to win by understanding our children's learning styles." Andrew Letiu
"After the workshop I watched my children at home and was observant to find out what their learning styles could be. When working with one of my kids with his maths before the workshops I would have used a chart but I made a choice to use blocks and he enjoyed it. I am being more aware of how my children learn."Berth & Ray Aue-Taufelila
PROJECT WY:
Congratulations to our Project Wy Whanau who Conquered Rangitoto on Saturday 4th June. Thank you for attending the early morning training sessions and for championing your child. We also saw our students supporting, encouraging their parents/caregivers and displaying kindness to others around them. Well done Whanau and we wish you well as you continue to train towards your August Event, Tough Guy/Gal in Rotorua.
ROAD SAFETY & CARPARK RULES
At Rise UP we consider your child's safety our first priority therefore we ask that you adhere to the rules we alongside Sir Douglas Bader Intermediate have put in place. We have had a few close calls which is too many for our liking. We would like to ask that if you see any of our Rise UP parents/ caregivers parking where they shouldn't be please kindly ask them to move along. We thank you for your cooperation.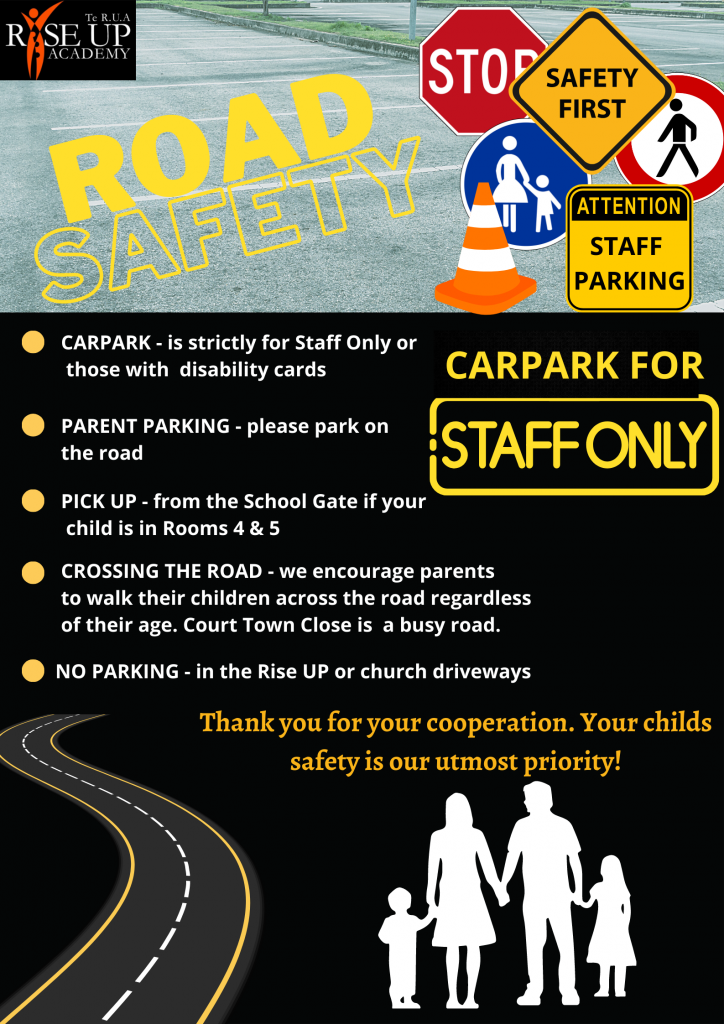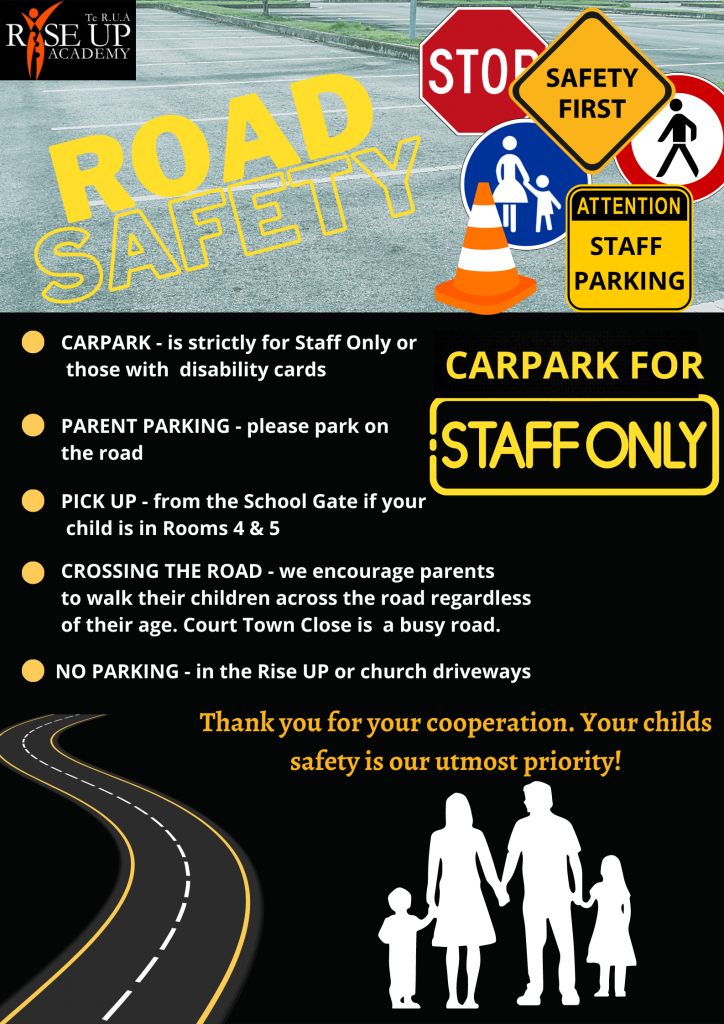 CORRECT SCHOOL UNIFORM
It is important that our students take pride in their appearance. Please ensure your child wears the correct school uniform each day to school.
As you can probably feel the mornings are becoming a bit cooler and more crisp so we encourage you if your child doesn't already have one please purchase them a school jersey. Size 6-16 $48.00 for Adult S-XL is $52.00 (no hoodies or printed jerseys to be worn at school) Your child can wear the summer uniform: polo and black shorts. If you wish to make an order please pay into the school account and email us proof of payment.
Rise UP Academy 12 3021 0016910 00 Ref: Childs name Code: Uniform Pref: polo or jersey e.g. Ref: SaaneH Code: Uniform Pref: sz14polo 
In winter (terms 2 & 3) they can also wear: long PLAIN BLACK tracks/pants (no prints on them) these can be brought from the Warehouse or Kmart (prices vary from $10-$20) Hats are not compulsory in terms 2 & 3 but we do encourage them to wear one if the sun is out.
Please support us by encouraging your child to wear the correct school uniform.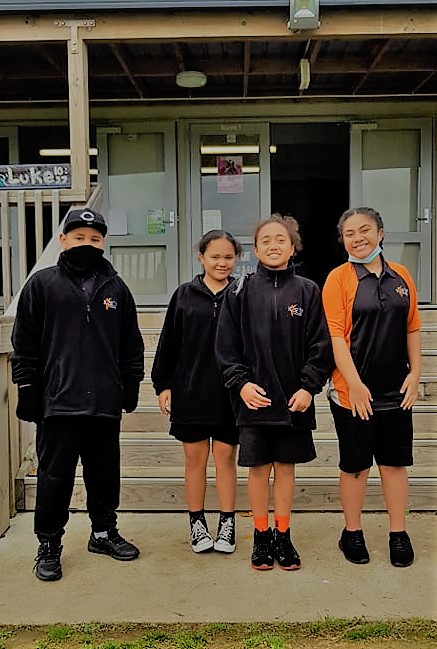 WATER BOTTLES ARE A MUST!!!
Your child must bring a labelled water bottle to school. We have taps available to REFILL bottles but not to drink from to avoid any spread of COVID. We thank you for your support in helping to prevent the spread of COVID in our school community. Should your child forget to bring a bottle the classroom teacher will be making contact with you.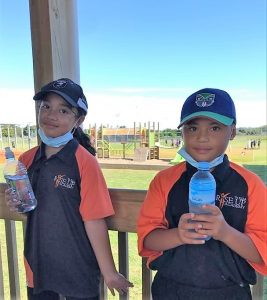 Devotions
Whanau devotions:
Devotion topic: I am a child of God: Goodness
Scripture for the term:
Ephesians 2:10
For we are his workmanship, created in Christ Jesus for good works, which God prepared beforehand, that we should walk in them. (ESV)
Scripture for the week:
2 Peter 1: 5-7
5 For this very reason, make every effort to add to your faith goodness; and to goodness, knowledge;6 and to knowledge, self-control; and to self-control, perseverance; and to perseverance, godliness;7 and to godliness, mutual affection; and to mutual affection, love. For if you possess these qualities in increasing measure, they will keep you from being ineffective and unproductive in your knowledge of our Lord Jesus Christ.
Learning Intention: Success criteria:
We are learning how to practice self-control.
– I understand what self-control is.
– I can stop, think and make the right choices.
– I can pray and ask Jesus to help me practice self-control.
Prayer requests:
– Enrolments for 2023
– Well-being for all staff & whanau
– BLC FUNDING
– For God's protection to be upon all our whanau, staff and board.
– BLC programmes-Hearts & Minds new whanau
– Support services & extra funding for our neuro diverse children
Praise be to God for answered prayer

Print or Save this Post