Principal's Message
Kia ora koutou katoa, Talofa lava, Kia orana, Malo e lelei, Fakaalofa lahi atu, Bula vinaka and Greetings,
Praise the Lord for a strong finish to Term 1. As the Autumn weather brings the temperatures down I pray everyone enjoyed the Easter break and remembrance of our Lord and Saviour Jesus Christ is top of mind.
We have been working closely with the John Kirwan Foundation using the MITEY programme in classrooms to enhance our students mental health and well-being. Students have covered a range of topics including knowing who they can talk to when they need support. Thank you for the ongoing communication when situations become challenging for our students. It is a real privilege to serve you all when we have a shared understanding of our mission, vision and values. It never cease to amaze me with the level of outstanding whanau engagement we consistently see.
You may have noticed some changes at the front desk this year. Ms Celia has joined the BLC administration team and Rhonadean Godinet has taken up a Whanau Educator role. They both strengthen our vision and mission with their heart for children, learning and whanau. The Teacher only day on the 31st March was an opportunity to review our special character and provide opportunities for team-building with new staff members. Ms Sifaheone will be taking leave from the end of May and return in January 2024.
The Student Council prove to be quite the planning team with their sharp minds working to host our final assembly and plans for break time clubs during Term 2.
The Board of Trustees continue to lead our School Charter and annual plan with our 2023 goals: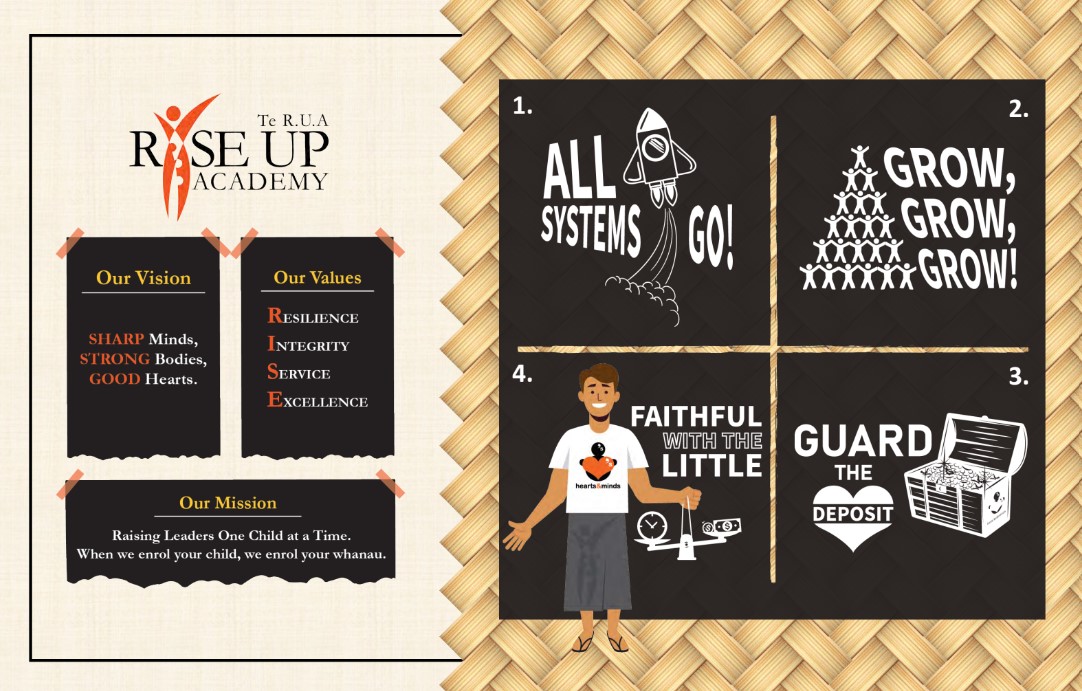 We will undertake a process of consultation for two topics:
1. Application for an Alternative Constitution.
2. Year 7/8 decapitation-pending property status.
Term 2 Board of Trustees meeting dates: 6pm on Thursday 11th May and Thursday 1st June-6.30pm-AGM
AFTER SCHOOL PICK UPS:
As of Term 2, we will be releasing students from their classrooms not the front gate. Teachers will no longer be waiting at the gate with students, please feel free to walk down and escort your children from their classroom or wait for them at the gate.
Enjoy the break and thank you for your continued support to encourage our children with their learning and well-being this year.
1 Corinthians 13: 4- 6 Love is patient, love is kind. It does not envy, it does not boast, it is not proud. It is not rude, it is not self-seeking, it is not easily angered, it keeps no record of wrongs. Love does not delight in evil but rejoices with the truth.
Nga mihi nui,
Sita Selupe MNZM
Principal
Recent Events
Term 1: In the Classroom
Room 5
Talofa, Soifua Manuia Whanau.
Faafetai i le Atua ua faai'uina i le manuia lenei kuata. Room 5 students have focused on learning
letter recognition, letter sounds and new words as it is the fundamental part of learning how to
read. Our tamariki practice writing letter formation and numbers correctly. Throughout our daily
routine, they learn about using respectful manners, loving hands and take responsibility of their
learning and learning environment. It is awesome to see our tamariki developed a sense of confident
to work and learn alongside others.
For Inquiry learning, Room 5 have been working on making their 'kakahu' which exemplified
identities. They engaged well with coloring feathers in different colors that represent their countries
and write their likes, interest and strengths. Tamariki celebrated whanaugatanga (relationship) by
contributing in woven/glued feathers together to make a class kakahu of things that help
differentiate, unite and protect us all.
God Bless
Mrs Leaso Partsch.
Room 4
We made it! Term one of 2023 completed.
Our tamariki have focused on their learning goals especially around literacy. They have really tried their best with whanau to learn the weekly spelling words set, read daily and write simple sentences using still pictures. Mrs Govender and I have noticed a positive attitude towards sharpening their literacy minds. There is still a lot of work to do; but we know our village is there to support us.
This was evident with four of our students Ephesians Fanueli, Oswin Ah-Loe, Fa'apulou Scott and Sulieti Tava and their families show casing their Synergy presentations 'I Know Who I am'; at the Mangere Arts Centre. I am so proud of their efforts over the six weeks of learning their Smarts, Personality types and family genealogy. A learning journey well worth doing with your child with the support and expertise of our BLC team.
I would like to wish all our whanau and tamariki a safe Easter break and School holidays and look forward to the transition of five new students into Room four in Term two.
Blessings,
Mrs Faga and Mrs Govender
Room 3
Greetings. I am the new room 3 teacher. It has been a delight to work with my students. They have such a hunger and enthusiasm for learning. I find this rewarding working alongside them. We have had fun learning about different shapes in geometry and created prisms and shapes out of wire and straw. Also, we enjoyed making cubes, triangular and rectangular prisms and then turned them into houses and apartments. There are many potential artists as my students designed their shapes with beautiful artwork.
I have started two book clubs called Dr. Seuss and Bookworms. My students were challenged to read one book a week. They would earn a certificate at the end of the week and 10 points for their group. To my delight they responded with great enthusiasm and read an impressive amount earning hundreds of points for each group. My arm was becoming sore writing up the points on the board. I look forward to bringing life into the learning of my room 3 students for the rest of the
year and wish you all a blessed Easter and holidays.
Ms Bella
Room 2
And that's a wrap! Praise the Lord we have completed Term 1.
Thank you parents for your patience with your children and bringing them to school everyday. As we wrap up this term Room 2 have been learning new vocabulary words – hyperbole, metaphor, onomatopoeia and similes all based around figurative language and using these to enhance their writing. Please ask your children what these words mean and they can explain to you what it means or give an example of each word. Swimming has finished and Room 2 had 95% attendance within the last 4 weeks of the term! Tino Pai! During this holiday please ensure to keep the reading going for 20 minutes a day and write what the book was about. Practise your times tables and bring back some gleaming new vocabulary to share in Term 2.
God bless and keep safe, blessings Ms Kui Sifaheone.
Room 1
Kia Ora koutou and warm Pasifika greetings to you all,
Although we had a slow and unexpected start to term 1, we managed to get into a routine. Our Devotion theme of Love has really started us off nicely as we have been understanding the true meaning of what love is and reflecting and coming up with ways on how we should show our love for God and others. Through our Topic of "All about me" we were able to start off the year really getting to know each other . We created presentations to share confidently who we are in front of our class. This was an interesting aspect of our learning as we made connections with each other and found new and intriguing information about our class members . Our Inquiry focus has been supported by the Mitey Program where we have been learning about our emotions and how to deal with them. This has been useful to us especially as one of the key competencies we have been working on in our class has been Managing ourselves. We have enjoyed our swimming lessons at the Mangere swimming pools every Tuesday and learning Cricket skills for PE. For Numeracy we have been looking at Geometry shape and working through different strategies to solve math problems and learning about financial literacy. This term our class were able to explore our creativity with Visual Art (Self portraits & perspective Art ) and in Music we took on the challenge to learn the Ukulele and perform in front of a live audience. There has been a plethora of learning this term and we are looking forward to our learning in Term 2. Thank you to everyone who supported our learning, from our parents, the community and the Rise up Staff . Wishing you all a safe Easter and holiday break .
Fa'afetai tele lava.
Dominica Ah Lam
RUA YEAR 7 & 8 SPORTS WITH SIR DOUGLAS BADER
On Tuesday the 4th of April, our year 7 and 8's were very fortunate to have the opportunity to participate in a Sports day with Bader Intermediate. Our students displayed the RUA values as they built new relationships with the Bader students and staff. Our students brought their competitive spirit and showed their strategic skills when they battled it out in hunger ball. They showed perseverance and determination through an extremely challenging obstacle course. It was great to see all of our students participate with a can-do attitude and really push themselves out of their comfort zone. We look forward to continuing to build our relationship with our neighbouring school Bader Intermediate.
Whanau Notices
HEARTS & MINDS
Well done to Emma & Bob Lemalu, Warren Togiatama, Jazmin Aiavao, Helen Fa'avae, Teingoa Turaki & Eliana Taringa. We have enjoyed our journey alongside you all for the past 6 weeks. May God continue to bless all your families. We look forward to our coffee catch up on Thursday 27th April 6pm.
Parent testimonies:
"I feel privileged and my cup is overflowing because I can offer my kids and husband more now due to the learning from Hearts & Minds".
"I feel equipped with the tools and skills to help my child in their learning journey".
"I can do alot more to help with my child's learning. I am happy to use the new learning techniques and knowledge shared to good effect".
"I feel like I am going to miss coming to Hearts & Minds".
SYNERGY "I KNOW WHO I AM"
This is the first time we have delivered the Synergy programme in Term 1. Thank you and well done to these families for your commitment to the programme. A special thank you to our dads that attended all the sessions!!
Ephesians, Emma & David Fanueli
Oswin, Hezro, Bahi & Justin Ah Loe
Sulieti, Anna & Solomone Tava
Fa'apulou, Mariah Lucia, Mayleen & Albert Scott.
On Tuesday 4th April at the Mangere Art centre we had more than 50 families, friends and teachers that turned up to support our four children who were presenting that night.
Ephesians, Oswin, Hezro, Fa'apulou & Sulieti shone like stars that night. They pulled at our heart strings and made us laugh as they did their presentations. It is always encouraging to hear and see our children stand with confidence and share their talents, family values, personalities, their smarts and dreams and cultural dances. Praise God for a wonderful night of celebrating our children's uniqueness in God.
Psalm 139: 14
I praise you because I am fearfully and wonderfully made; your works are wonderful, I know that full well.
PATH
Thank you to all our whanau who have completed their Path plan in Term 1. Well done to our whanau who completed their first steps. We will get in touch with our whanau for Term 2 Path sessions.
AFTERSCHOOL PROGRAMME
Thank you parents for continuing to support our children within the after school programme. Rooms 1,2 & 3 are enjoying their SUPA experience and have been learning creative ways to in mixing shapes, layers and counts to a dance routine. They've also been exploring articulation, projection and script reading in drama. I hope they've been sharing their experiences at home.
Our Culture programme is also in full swing with our awesome tutors, Whaea Emi – Samoan Tutor and Mr Teingoa our Cook Island tutor. We are still looking for a Tongan, Niuean and Maori tutor to join our team. Please let us know if you are free every Tuesday from 3pm-4.30pm or you may want to take a few sessions in the term to share your knowledge either through dance, music, handicrafts, sport etc. We would be happy to compensate you for your time.
If this sounds like you please contact me via email [email protected].
PROJECT WY
Project Wy is in full swing and we have a great number of students and whanau participating in our first event, the Rotorua Marathon in May. Congratulations to the whanau who have accepted this challenge – 2 training sessions a week, Thursday and Saturday mornings. Keep up the good work whanau!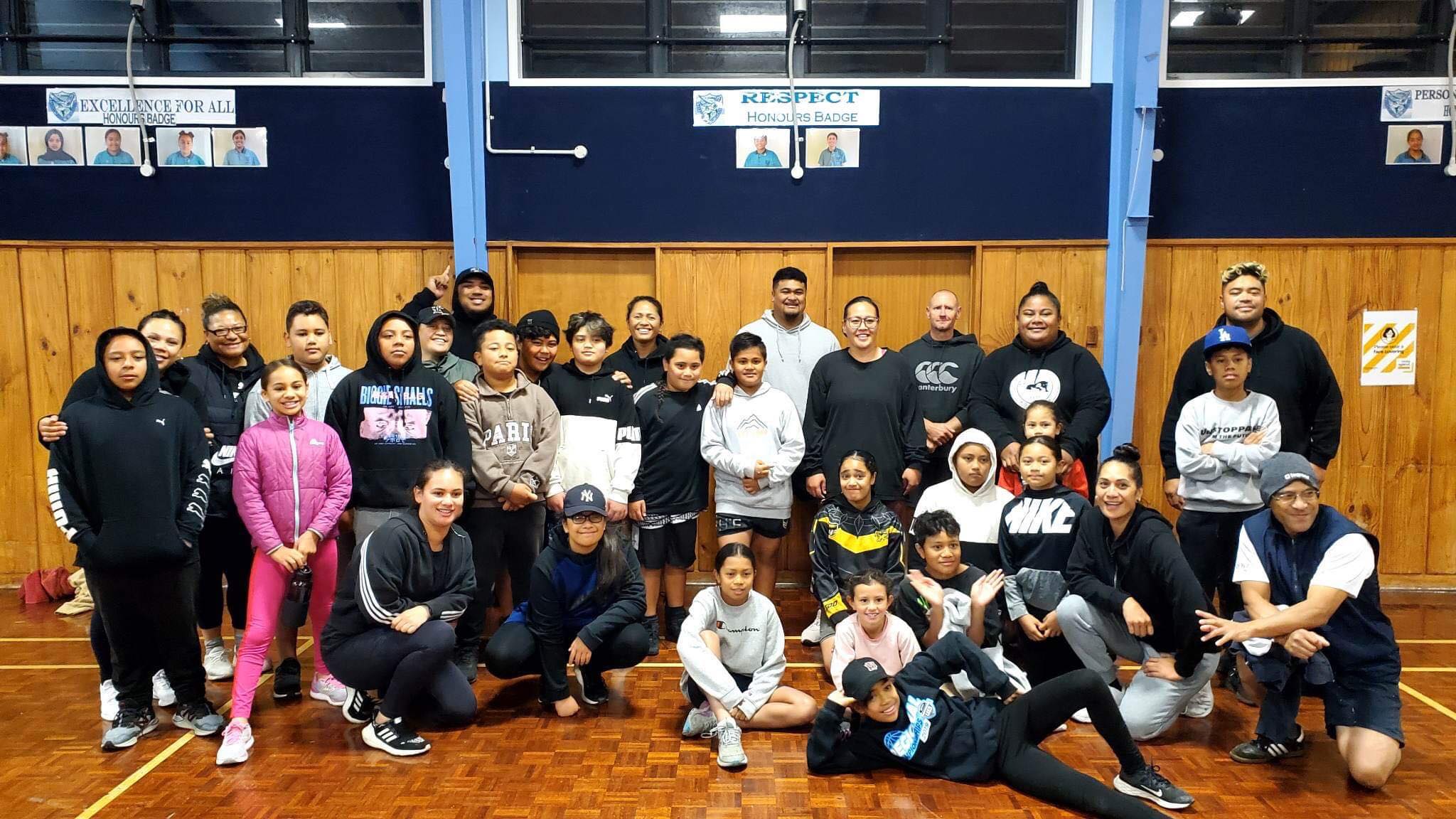 GOOD TO GO VOLUNTEER ARM
Congratulations to our whanau who have started their volunteer service to the school with SWIMMING supervision. We invite you to join us NEXT TERM for culture on Tuesdays to help with supervision or join in our language classes with our awesome tutors.
CORRECT SCHOOL UNIFORM
Its Term 2 so your child can still wear plain black shorts but if they are feeling cold they can also wear: long PLAIN BLACK tracks/pants (no prints on them) these can be brought from the Warehouse or Kmart (prices vary from $10-$20) Hats are not compulsory in terms 2 and 3.
It is important that our students take pride in their appearance. Please ensure your child wears the correct school uniform each day to school.
As you can probably feel the mornings are becoming a bit cooler and more crisp so we encourage you if your child doesn't already have one please purchase them a school jersey. Size 6-16 $48.00 for Adult S-XL is $52.00 (no hoodies or printed jerseys to be worn at school) Your child can wear the summer uniform: polo and black shorts or they have the option to wear plain black pants. If you wish to make an order please pay into the school account and email us proof of payment.
Rise UP Academy 12 3021 0016910 00 Ref: Childs name Code: Uniform Pref: polo or jersey e.g. Ref: SaaneH Code: Uniform Pref: sz14polo
Please support us by encouraging your child to wear the correct school uniform.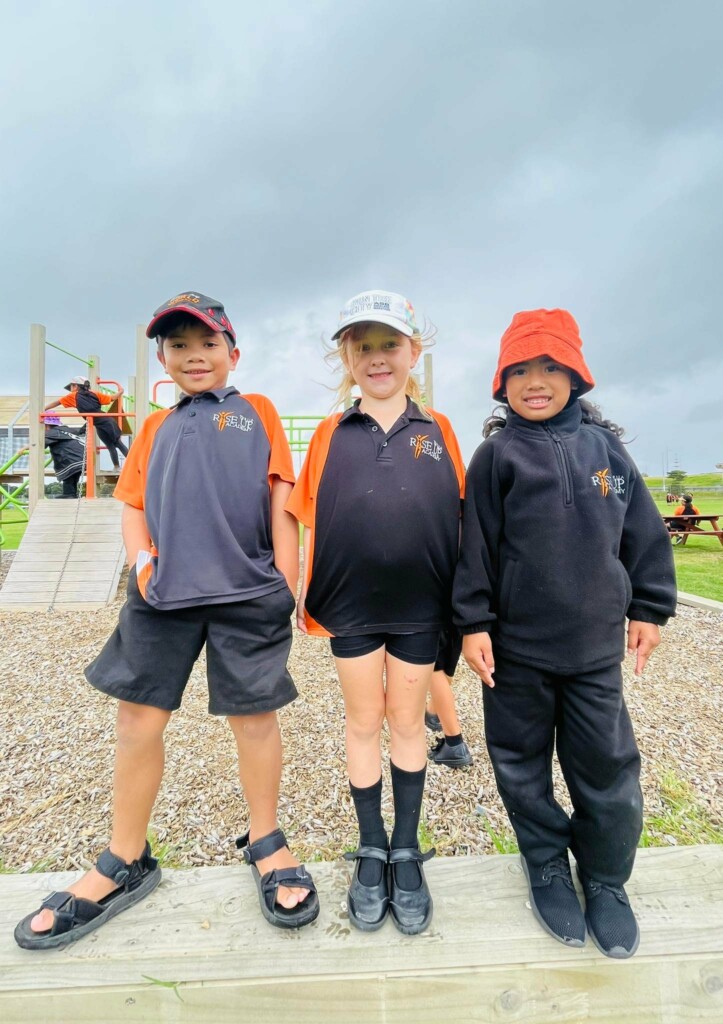 ENROLMENTS
For our whanau who have children turning five this year please complete an enrolment form now. We have spaces available for next term's enrolment, so please let your whanau know. You can pick up an enrolment form from the office or available on line https://www.riseupacademy.school.nz/online-enrolment-form/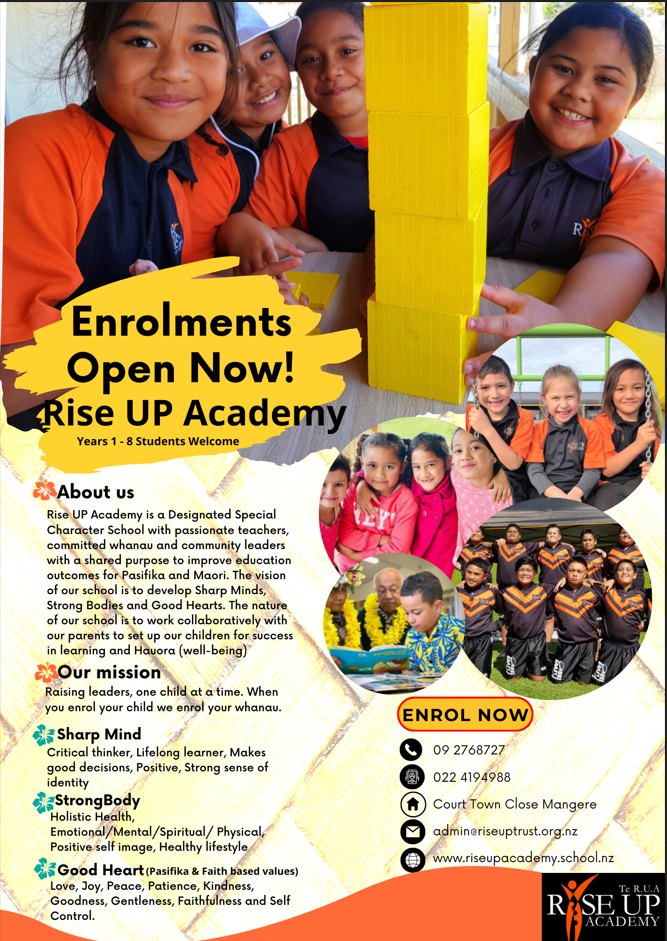 SMALL BUSINESSES WITHIN OUR SCHOOL
PROV-TECH Automotive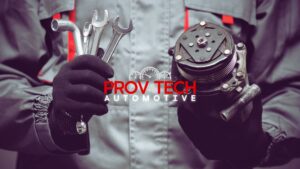 If your car needs some work done or a service please check out http://provtechauto.com
275KAI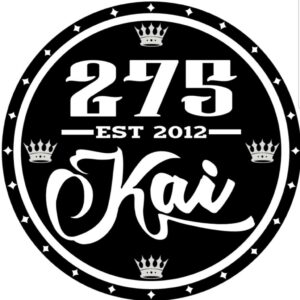 Mary and her whanau make the heartiest burgers and delicious meals like; surf n turf, ribs etc found here too! 60 Vine Street Mangere. https://www.facebook.com/275KAI
MAMAS MEDALS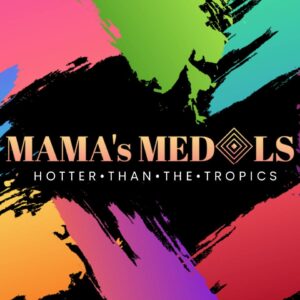 She and her team create the most stunning pieces and are available to order. You'll be the talk of the town when you wear one of her numbers. https://www.facebook.com/mamasmedals
*Whanau if you own a small business that you would like us to post up on our newsletters please email [email protected] 
ROAD SAFETY & CARPARK RULES
At Rise UP we consider your child's safety our first priority therefore we ask that you adhere to the rules we alongside Sir Douglas Bader Intermediate have put in place. We have had a few close calls which is too many for our liking. We would like to ask that if you see any of our Rise UP parents/ caregivers parking where they shouldn't be please kindly ask them to move along. We thank you for your cooperation.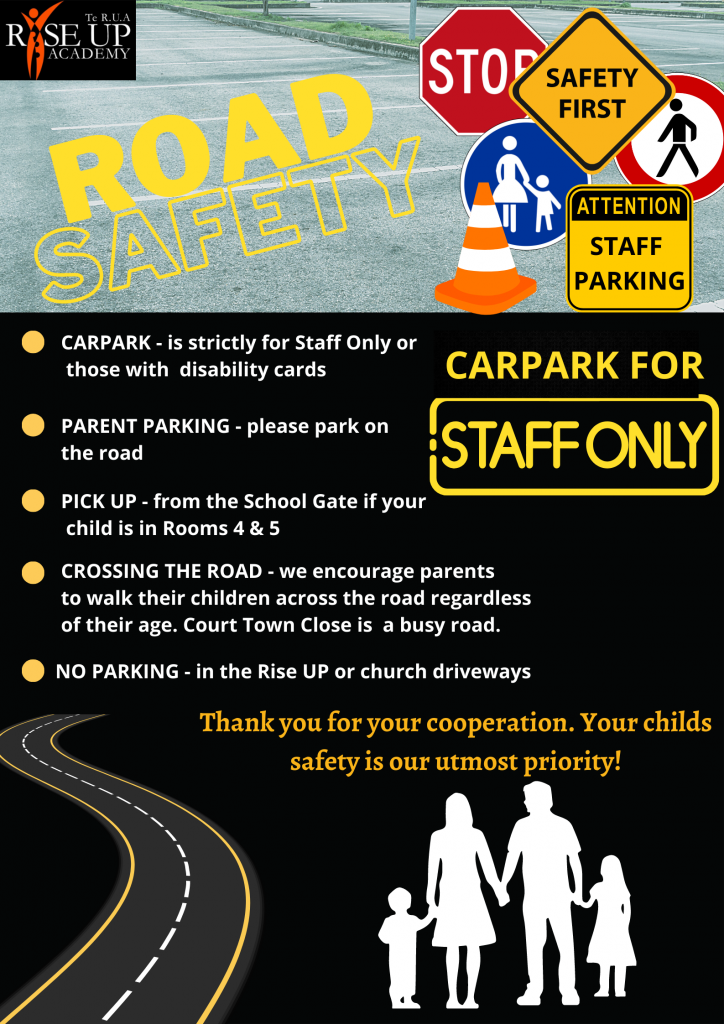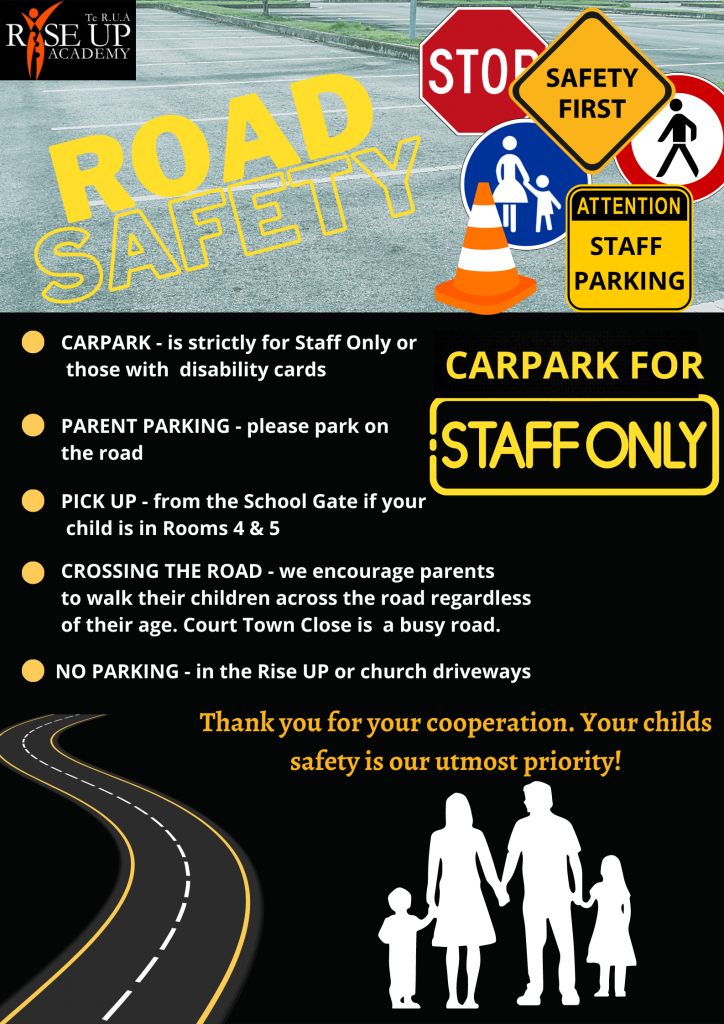 Devotions
Whanau devotions:
Devotion topic: Love
Scripture for the term:
1 Corinthians 13: 4- 6 Love is patient, love is kind. It does not envy, it does not boast, it is not proud. It is not rude, it is not self-seeking, it is not easily angered, it keeps no record of wrongs. Love does not delight in evil but rejoices with the truth. It always protects, always trusts, always hopes, always perseveres.
Scripture for the week:
16 For God so loved the world that he gave his one and only Son, that whoever believes in him shall not perish but have eternal life.
Learning Intention: We are learning how to understand why God sent His Son to die for us all.
Success criteria:
– I share with others why God sent His Son Jesus to die on the cross
– I can learn the memory verse for the week.
– I can thank God for His Son Jesus for dying on the cross for our sins
Prayer requests:
– Protection over us all for our families and staff during the holidays.
– Term 2 Curriculum planning
– Sustainability plans
Praise be to God for answered prayer

Print or Save this Post