Principal's Message
Tena koutou katoa,
I hope this post finds you all well and thriving. It has been a different kind of start to the year, however the new entrants and new whanau have embraced the RUA way. Our vision and values are alive and active with lots of new faces in the classrooms. I know it is already a busy time of the year for everyone so well done for making that commitment to attend Hearts & Minds, Synergy and PATH sessions – We will reap what we sow!
Once again we had great Parent Partnership meeting attendance -87% whanau in attendance and 13% rescheduled meeting times.
Our Curriculum theme for 2023 is Pacific Navigation- Wayfinders. This term we have been focussing on Well-being and settling into the learning environment. The children are enjoying the term Devotion topic -LOVE! We welcome two new teachers- Room 3 Mrs Bella Hollins and in Room 5 Mrs Leaso Partsch.
The Student Council is ready to take up their roles as leaders and providing feedback and support for their fellow students.
Thank you for ensuring our children have their hats, water bottles and bibles ready for learning and well-being this term. They are enjoying the FREE lunch scheme and expanding their taste palates with the new menu's.
The Board of Trustees continue to lead our School Charter and annual plan with our 2023 goals: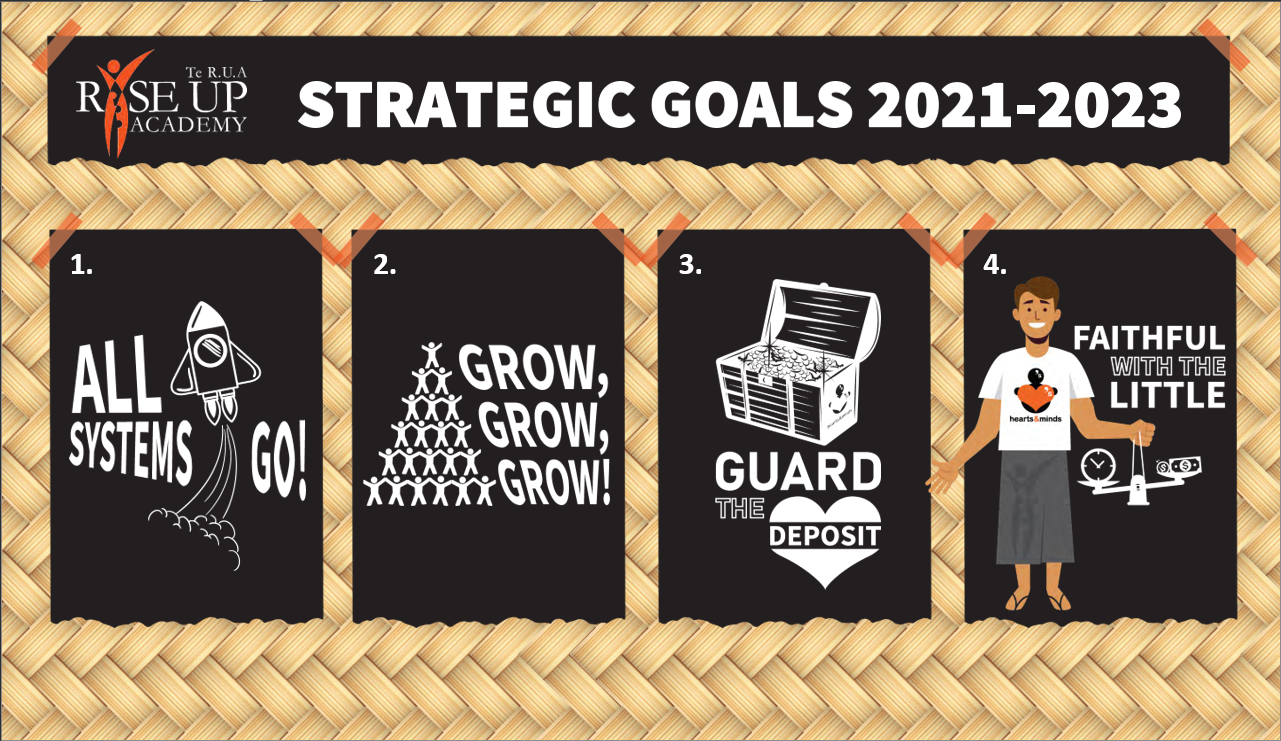 Term 1 Board of Trustees meeting dates: Thursday 2 March and Thursday 30 March
Over the years we have had Komiti Tupu Mai who provide support to the Board, fundraising and whanau voice. It is now time to rekindle this team of amazing people. Please watch out for meeting dates if you are keen and have time once a term to meet and contribute to Komiti Tupu Mai.
NZEI STRIKE ! You will be pleased to know that we will REMAIN open on THURSDAY 16TH MARCH.
Enjoy the sunny days ahead of us and thank you for your continued support to encourage our children with their learning and well-being this year.
1 Corinthians 13: 4- 6 Love is patient, love is kind. It does not envy, it does not boast, it is not proud. It is not rude, it is not self-seeking, it is not easily angered, it keeps no record of wrongs. Love does not delight in evil but rejoices with the truth.
God Bless
Sita Selupe MNZM
Principal
Recent Events
Term 1: Learning from Rooms 2 & 4
At the end of each school term we will post up snippets of learning that has taken part in each classroom. Here is a sneak peek at some learning in Rooms 2 & 4. Keep your eyes peeled for the end of term newsletter.
Room 4
Our Room 4 stars have showed resilience, engagement and love despite the disruptive start to 2023. But this has not stunted the process of growing their Sharp Minds, Strong Bodies and Good Hearts. Here a few activities.
Firstly;
Science Experiments with Mrs Govender. This has esteemed from our Big Book of the Week "Will it Float". Akonga making predictions, observations and conclusions of their new learning.
For growing our Good Hearts; along with our Devotion is our School Wide Inquiry . The John Kirwan Mitey Programme is designed to look into the well-being, feelings and identity of our tamariki. Each unit is aligned with the NZ Curriculum and is based on different outcomes.
One learning experience was looking at the different Kakahu, the meaning behind it and just like a kakahu protects us.
Room four made a kakahu (cloak) of love and kindness.
Finally; our Strong Bodies are being nurtured and developed in the Moana Nui Swimming pools.
Every Tuesday our learners receive guided lessons from the instructors. The bus picks them up and drops them off.
A huge thank you to all our parent- whanau support.
Blessings, Mrs Faga & Mrs Govender
Room 2
Fakaalofa lahi atu and Warm Pacific greetings!
Welcome back to Term 1 where we see there have been a few new faces and changes within the school and as your children would have told you, I (Ms Sifaheone) am now teaching in Room 2. It has been so great to see the students come back to school after the school closures with the flooding and cyclones. This term we welcome the Piutau and the Purea-Bill Whanau and their lovely children Tyrus Piutau and Zahzah Purea-Bill.
At the beginning of the Term the students have been learning about our school vision – SHARP MINDS, STRONG BODIES and GOOD HEARTS, also our school values – Resilience, Integrity, Service and Excellence. A lot has been unpacked and discussed as we collaborate on our class Treaty, so after much discussion and ideas written down on posted notes this is what we came up with as a class.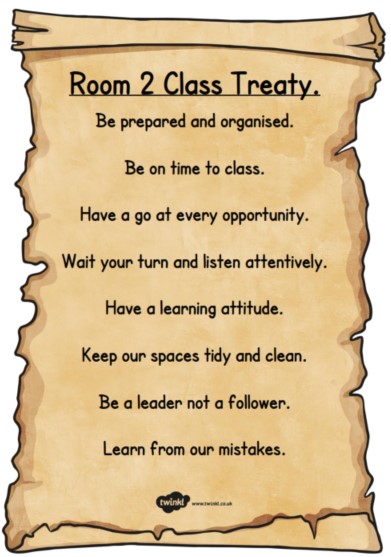 A big shout out to all our parents who were able to attend our PPMs (Parent Partnership Meeting) last week Friday. As promised your child should have received their photocopied goal booklets today for you to post up on your fridge or your family notice board to track how their goals are coming along. I do have a couple more families scheduled this coming week and then we have completed all goal booklets for Term 1. Well Done whanau!
Just a few reminders please: Every Tuesday we have swimming at 1:30pm which is compulsory for every child to participate unless they have a note from home to inform the teacher why they can't swim. It is vital for the children to learn how to swim and become confident in the water as there are high statistics of our young children drowning in open waters or in public swimming pools. Here are some photos of our swimming every Tuesdays.
If you have any queries or questions you can email me or leave a message on our Class Dojo parent portal. If you're not on Class Dojo yet, you may want to check your emails for the invitation I sent for you to join. [email protected]
Good luck to all those supporting and participating in the Polyfest this weekend.
Have a blessed and safe weekend.
Ms Kui Sifaheone
Whanau Notices
Hearts & Minds
Thank you to all our whanau who attended our Hearts & Minds workshop so far.
What skills, attitudes and values are important for the 21st Century?
Great discussions and sharing by our parents.
Home-school partnership -together we set up our children to succeed in learning and in life.
Love Languages is our topic for discussion tonight. Feel free to join if you would like to do a refresher course.

Synergy: I Know Who I Am
I am valuable! I am unique! God has a plan and purpose for your life. When our children know that God created them as fearfully and wonderfully made, they will rise in confidence knowing their own uniqueness and knowing God has a plan for their lives.
Thank you to all our children for our first session of Synergy-Sense of Purpose. It was so great to see your sharp thinking skills.
Afterschool Programme
Thank you parents for continuing to support our children within the after school programme. Rooms 1,2 & 3 are enjoying their SUPA experience and have been learning creative ways to in mixing shapes, layers and counts to a dance routine. They've also been exploring articulation, projection and script reading in drama. I hope they've been sharing their experiences at home.
Our Culture programme is also in full swing with our awesome tutors, Whaea Emi – Samoan Tutor and Mr Teingoa our Cook Island tutor. We are still looking for a Tongan, Niuean and Maori tutor to join our team. Please let us know if you are free every Tuesday from 3pm-4.30pm or you may want to take a few sessions in the term to share your knowledge either through dance, music, handicrafts, sport etc. We would be happy to compensate you for your time.
If this sounds like you please contact me via email [email protected].
Path Plans
Thank you to our families who have booked in a time PATH Plan time with our BLC Team. Please think about your whanau goals and learning goals before you arrive. If you aren't already booked in for Term 1 will get in touch with your family for Term 2 to book your PATH Plan.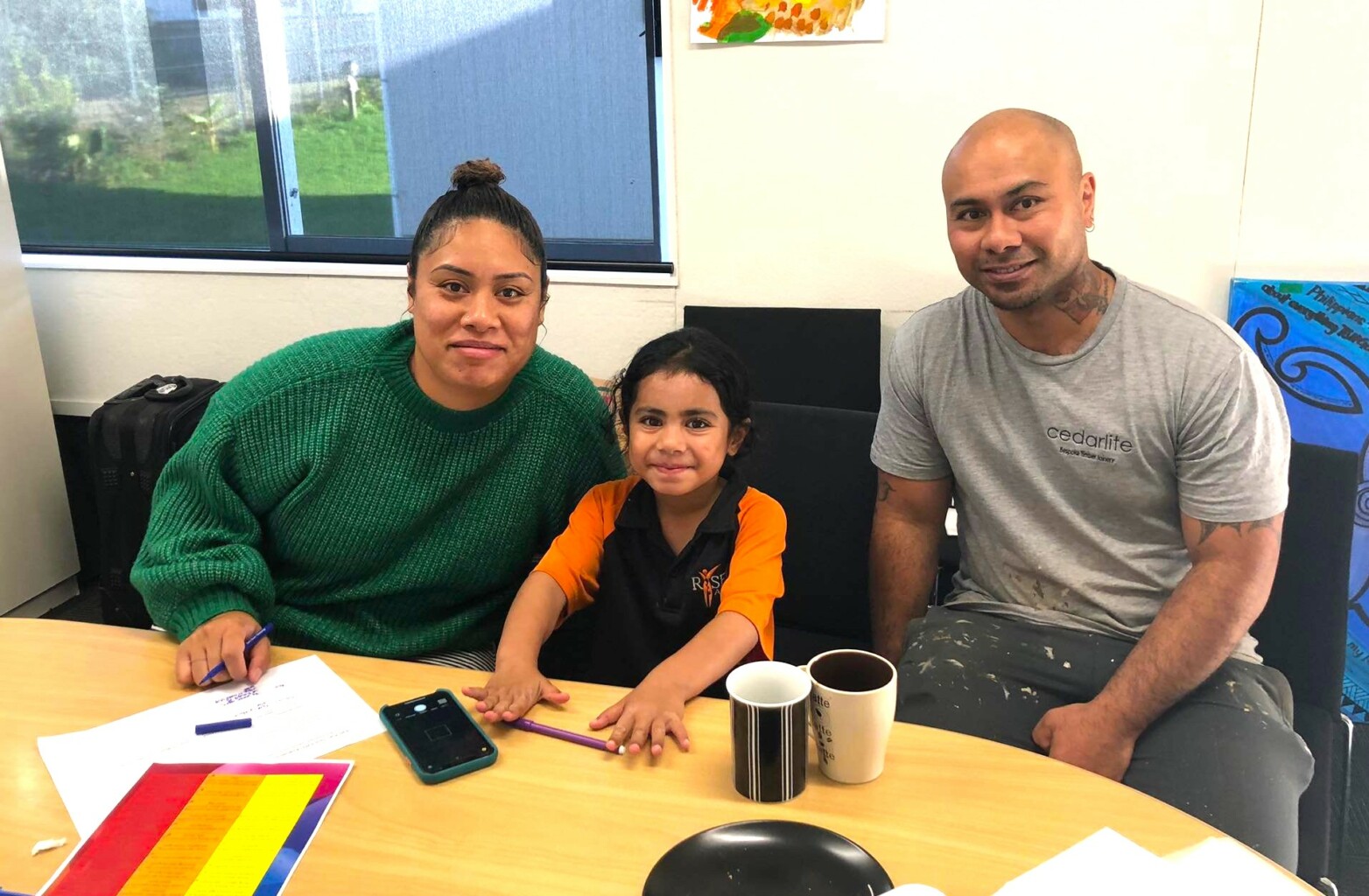 Project Wy
We have teamed up with Project Wy again this year to encourage and empower our strong bodies initiative. A presentation of what this looks like will be held on Tuesday 21st March at school from 4.45pm-5.30pm.
If your child is in Year 6,7,8 we welcome you to join us as this will be a great opportunity for them. They will also be involved in the STEM programme sponsored by Project Wy at MOTAT in week 9.
Good To Go Volunteer Arm
Congratulations to our whanau who have started their volunteer service to the school with SWIMMING supervision and LIBRARY visits.  We invite you to join us for culture on Tuesdays to help with supervision or join in our language classes with our awesome tutors. 
Teachers Only Day (No School Day)
We have a Teachers Only Day on Friday 31st March. Please ensure your children have appropriate supervision on this day.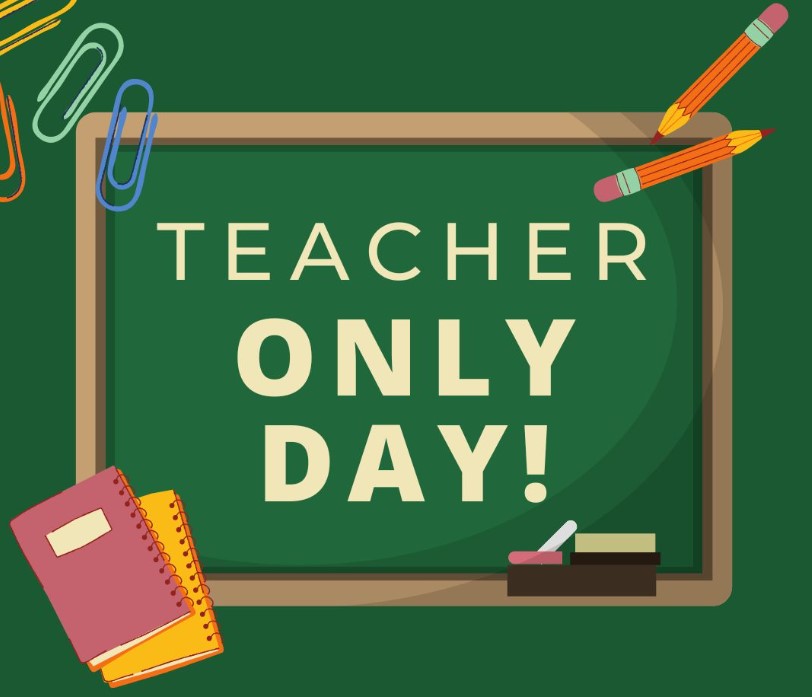 CORRECT SCHOOL UNIFORM
It is important that our students take pride in their appearance. Please ensure your child wears the correct school uniform each day to school.
As you can probably feel the mornings are becoming a bit cooler and more crisp so we encourage you if your child doesn't already have one please purchase them a school jersey. Size 6-16 $48.00 for Adult S-XL is $52.00 (no hoodies or printed jerseys to be worn at school) Your child can wear the summer uniform: polo and black shorts or they have the option to wear plain black pants. If you wish to make an order please pay into the school account and email us proof of payment.
Rise UP Academy 12 3021 0016910 00 Ref: Childs name Code: Uniform Pref: polo or jersey e.g. Ref: SaaneH Code: Uniform Pref: sz14polo 
Its Term 4 so its back to plain black shorts but if they are still feeling cold they can also wear: long PLAIN BLACK tracks/pants (no prints on them) these can be brought from the Warehouse or Kmart (prices vary from $10-$20) Hats ARE COMPULSORY in terms 1 & 4.
Please support us by encouraging your child to wear the correct school uniform.
WATER BOTTLES ARE A MUST!!!
Your child must bring a labelled water bottle to school. Having a water bottle in class means less disruption as they can have this on their desk as they work. We have taps available to refill their bottles during break time.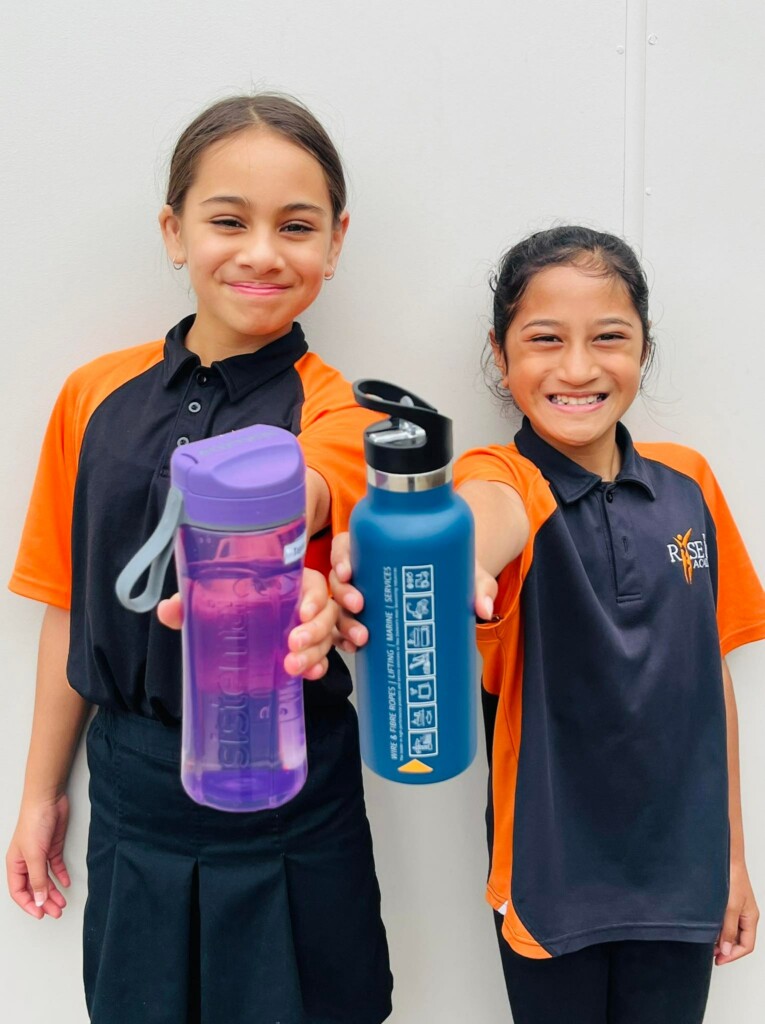 ENROLMENTS
For our whanau who have children turning five this year please complete an enrolment form. We have spaces available for  enrolment, so please let your whanau know. You can pick up an enrolment form from the office.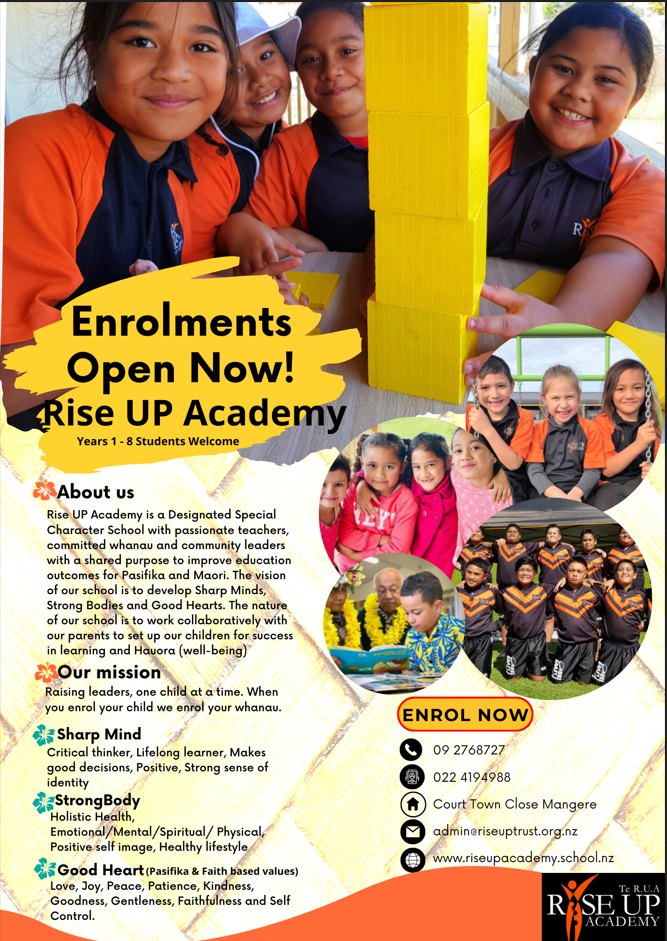 SMALL BUSINESSES WITHIN OUR SCHOOL
PROV-TECH Automotive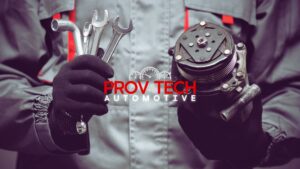 If your car needs some work done or a service please check out http://provtechauto.com
275KAI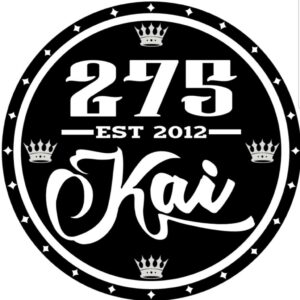 Mary and her whanau make the heartiest burgers and delicious meals like; surf n turf, ribs etc found here too! 60 Vine Street Mangere. https://www.facebook.com/275KAI
MAMAS MEDALS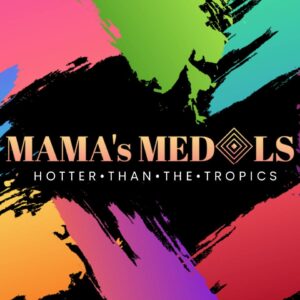 She and her team create the most stunning pieces and are available to order. You'll be the talk of the town when you wear one of her numbers. https://www.facebook.com/mamasmedals
*Whanau if you own a small business that you would like us to post up on our newsletters please email [email protected] 
ROAD SAFETY & CARPARK RULES
At Rise UP we consider your child's safety our first priority therefore we ask that you adhere to the rules we alongside Sir Douglas Bader Intermediate have put in place. We have had a few close calls which is too many for our liking. We would like to ask that if you see any of our Rise UP parents/ caregivers parking where they shouldn't be please kindly ask them to move along. We thank you for your cooperation.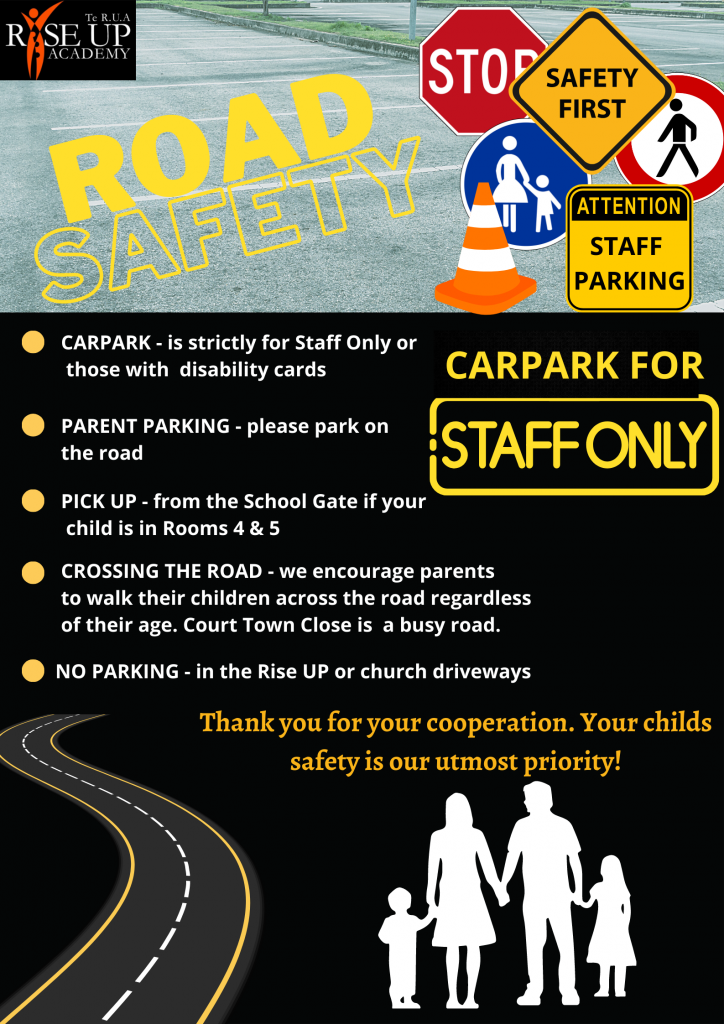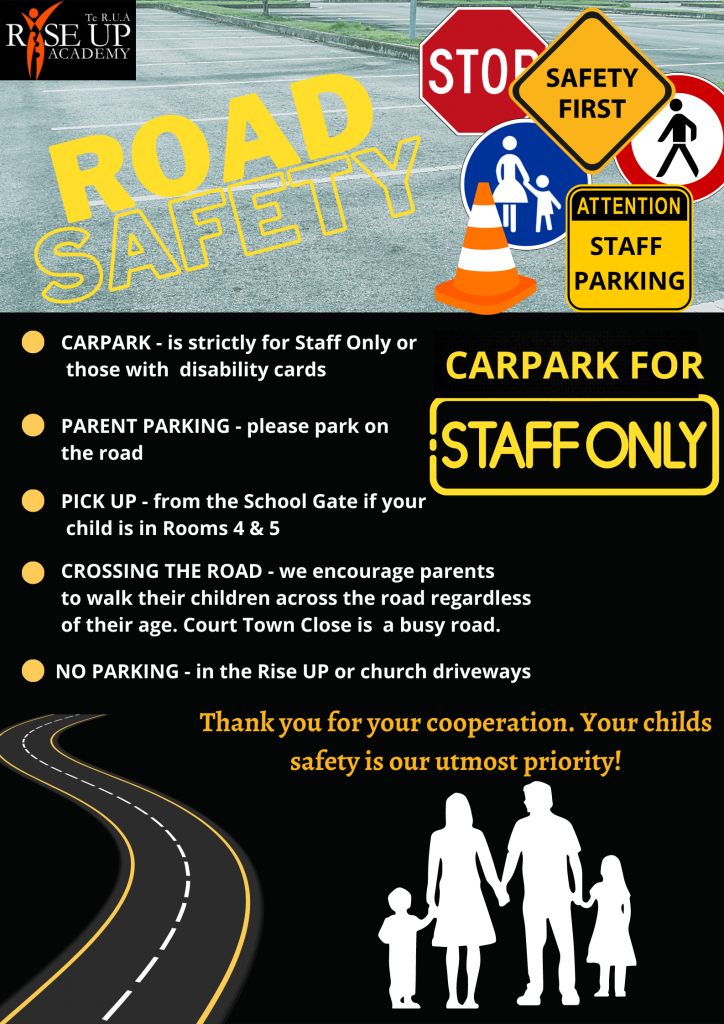 Devotions
Whanau devotions:
Devotion topic: Love
Scripture for the term:
1 Corinthians 13: 4- 6 Love is patient, love is kind. It does not envy, it does not boast, it is not proud. It is not rude, it is not self-seeking, it is not easily angered, it keeps no record of wrongs. Love does not delight in evil but rejoices with the truth. It always protects, always trusts, always hopes, always perseveres.
Scripture for the week:
1 Corinthians 13: 4- 6 …. It is not rude…
Learning Intention: We are learning how to respond in love and not be rude
Success criteria:
Talking with respect
Being patient
Saying please & thank you
Minding our own business
Minding our manners: respect with others/elders
Not being mean to others
Prayer requests:
– Whanau programmes
– Well-being for all whanau and staff
– To open up the children's hearts to God's Word to believe that they are wonderfully and fearfully made.
Praise be to God for answered prayer

Print or Save this Post